Restaurant Review: New Mexican in old Polish town
Our reviewer loved Agave Cocina in Wallington
The buzz has been trending all over Central Jersey TikTok. A restaurant called Agave Cocina has been getting hyped over its sizzling cheese fondue. 
I came across Agave Cocina (Instagram: @agavecocinamexicananj) in Wallington as I was scrolling through my TikTok timeline. The reviewer made the place seem interesting and appetizing. I decided to give it a try and went with my sister, Ashley, and mother. 
When coming in we were instantly greeted by the owner. Already I was happy that they were following COVID guidelines. They gave us a five-minute wait and, before being seated, they checked our temperature. Our waitress came shortly after being seated with complimentary chips and salsa, menus, and a tray with the utensils. The chips had a nice crisp and crunchy texture to it, perfectly salted as well. The salsa had a nice consistency and it wasn't watery or thick. She got us started with drinks and appetizers. I ordered a horchata agua fresca and my sister ordered a classic Mexican soda called Jarritos. 
For appetizers, we had to try the talk about Queso Fundido and a guac. The Queso Fundido got to us served in a molcajete bowl. The smell filled up the restaurant and you could hear the warm cheese sizzle. Chips came on the side as well as plates and a spoon for serving purposes. The cheese was so amazing it smelled just as good as it tasted. For the guac, however, I was scared to try. I am not the biggest fan when it comes to guacamole, but for review purposes, I decided to give it a try, and let me tell you, it was the best. It's not spicy and you can taste the freshness of the avocados and cilantro.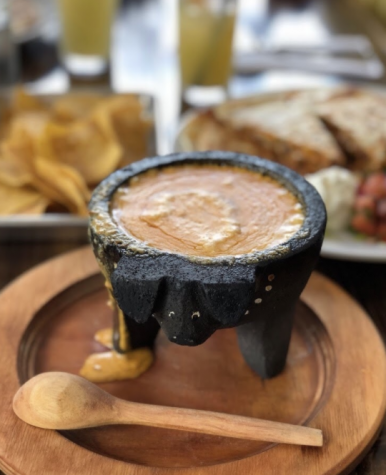 For entrees I ordered a steak burrito, Ashley ordered steak tacos, and my mom ordered one of their traditional entrees called bistek a la Mexicana. After I found out they had shrimp tacos I was eager to try them as well. The food did take a while, but the appetizers were keeping us busy. When we got our food it all looked so pretty and delicious. The steak burrito had steak, rice, and beans topped with their classic red sauce, melted jack cheese, and sour cream. It was big and took up all the plate, I wasn't able to finish it. The shrimp tacos had to be my favorite, they looked so pretty and Instagram worthy! They were served in warm flour tortillas and topped with their sauce, onions, and other delicious vegetables. Throughout our stay, we got good service and our waitress kept our tables clean from plates we no longer used, she also made sure we were good. We were all full but I made sure to leave room for dessert! I ordered churros with vanilla ice cream and flan. The ice cream had a soft vanilla bean taste to it but the best part about this dessert was the churros. They had a vanilla cream filling to it that didn't overpower the cinnamon. The flan was also very delicious and tasted homemade. 
Ashley had a positive review of the restaurant, saying  the restaurant gave her chill vibes. She later added: "The restaurant is cute, the decor and furniture they have makes the place a whole vibe. Their appetizers are top tier." My mom had a positive mindset about this place as well. "The staff here are really friendly and that is a big factor when it comes to eating at restaurants."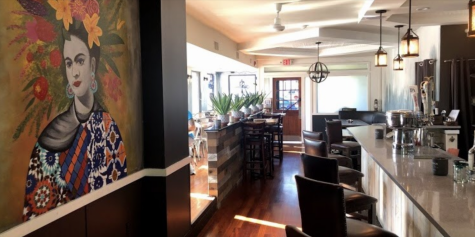 To conclude, the restaurant stands out in the town. Wallington has a prominent Polish culture, making Agave Cocina stand out from the rest with its Mexican fare. I would say that this restaurant is perfect if you want to hang out with friends and take lots of Instagram-worthy pictures. The music they play is what completes the atmosphere with well-known artists in the urban Latin genre like Bad Bunny. Agave Cocina is a Mexican restaurant with a modern twist. That's one of the things I like about this restaurant. I think the visit to the restaurant was worth the money. I would recommend and will be coming back. 
Agave Cocina Mexicana
32 Locust Ave, Wallington NJ
$$$