Counselor Corner
Who are we?
School Counselors are certified/licensed educators who work to improve student success for all students! School counselors work to maximize student success, promoting access and equity for
all students. As vital members of the school leadership team, school counselors create a school culture of success for all.
School counselors help all students:
apply academic achievement strategies
manage emotions and apply interpersonal skills
plan for postsecondary options (higher education, military, workforce)
Prep has 3 School Counselors who are here to support you in all that you need! We are: Mrs. Fontalvo, Mrs. Mold, Mrs. Roth Palacios! Our offices are located in the main office if you would like to speak with us at any time.
Virtual Financial Aid Night
We are hosting a Virtual Financial Aid Session for students and parents on December 7th a
t 5 pm. This event is meant for Juniors and Seniors but all who would like to learn about financial aid are welcome. The presentation will be in both English and Spanish. 
Use this link to register.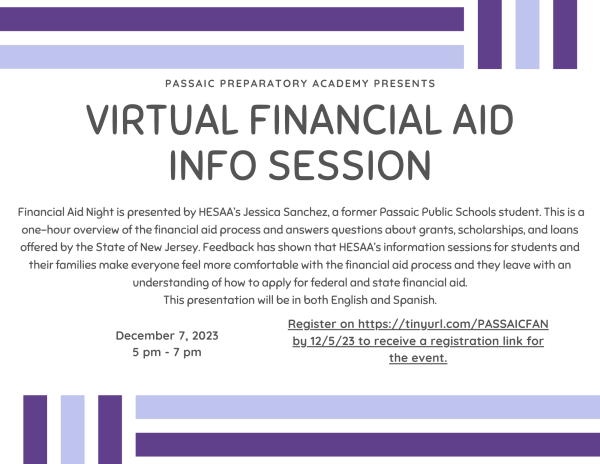 Upcoming School Counseling Events
Tuesdays & Thursdays are the days in which college representatives present information about their colleges. These college representative visits are open to only Juniors and Seniors and require a pass from your assigned School Counselor prior to the event.
The last week of November is Junior Week! 
November 16 is our collaboration with Ramapo College for seniors taking our independent studies courses.
Tips for School
Middle School
Middle school is a great opportunity to meet new people and begin to explore who you are and what you want to do with the rest of your life. It can also be a difficult time, as there are a lot of things that are changing in your life. You are meeting new people. There are more choices and decisions to make. Instead of being in one classroom with one teacher all day, you now have multiple teachers. You no longer stay in one classroom; instead, you have to switch classes for different subjects. You will be faced with more responsibilities. Here are a few tips to help you with the middle school transition. Don't be afraid to ask your teachers, counselors, or staff at your school if you need help.
Get organized
Do your homework.
Talk to your Teachers by asking questions. If you are unsure of an assignment, what you need to be doing, or anything, just ask. Your teachers are there to help you.
Get involved in extra-curricular activities. Find things you enjoy – sports, clubs, activities, and get involved. This is a great way to meet new
people and to have fun.
Get good grades. Turn your assignments in on time, ask questions, and take advantage of extra credit opportunities if available. Remember to get absent work and check in with your teachers when you return.
Stay Healthy. Get a good night's sleep and eat a good breakfast before school.
Talk to your parents and keep them informed of what is going on in your middle school life.
Find an adult you trust to talk to when you have problems.
Choose your friends wisely.
Come to school and have fun!
High School
Freshman year of high school is a big transition for any student. Whether you're moving to a big regional school, starting at a new private school, or continuing at your same school, the beginning of ninth-grade signals change on a number of different levels.
Sophomore year of high school is a great time to start getting ready for the college process!
Junior year is the most important year when it comes to college admissions.
Senior year  the end of an era but also a fresh start!
Resources for the college application and financial aid processes
Career information and assistance
Teen Job Interview Questions, Answers, and Tips
New Jersey Career Assistance Navigator (NJCAN) is an Internet-based delivery system for accurate, comprehensive, current, and relevant occupational, post-secondary school and financial aid information. NJCAN contains the latest national, New Jersey and local labor market data and projections.
NJCAN also includes information on:
Job interview preparation
Resume and cover letter creation
How to keep a job
Self-employment
Military occupations