PHOTO GALLERY: Excluded Women's March held in Passaic
MORE NEWS from The Boulevard staff:
Make the Road New Jersey (MRNJ) and other coalition groups, such as New Labor, Wind of the Spirit, and Laundry Workers Center, took to the streets of Passaic on March 7 for the Excluded Women's March to amplify the voices of immigrant women who are being left out of any form of COVID-19 relief. 
Make the Road New Jersey is a grassroots organization that advocates for dignity and respect within immigrant and working-class communities, according to its website.
It has been almost a year since the start of the pandemic and immigrants, especially women, have been excluded from COVID aid, according to MRNJ. 
Erika Martinez is from Elizabeth and one of the Youth Organizers for MRNJ. She said: "We're here during Women's History Month to honor the hard work and sacrifice of the strong immigrant women that are at the front lines of the pandemic. We must fight for them to be included in recovery efforts.
"I am here today because our communities deserve better and our legislators need to pass a #Recovery4All bill that includes stimulus payments for our families."
A "#Recovery4All" bill would include legislation that creates a pandemic relief fund which would include $600 weekly payments to unemployed workers who cannot collect unemployment benefits and stimulus-like payment for New Jerseyans without immigration status, according to MRNJ. This bill will benefit the half a million undocumented immigrants in the state and their 128,000 children who are U.S. citizens, MRNJ said.
Ms. Martinez's mother, like others, has lost the majority of her income since the start of the pandemic, Martinez said. While working from home, Martinez has been helping her mother pay for groceries and rent, and she also said she has been using her savings to support her family and to pay tuition for school. 
Martinez said people can help in the push for more stimulus from the government.
"To continue to fight for immigrant communities to be included in recovery efforts, we need to push our legislators to act now," she said.
Anyone interested in supporting this fight should follow Make the Road New Jersey on Instagram and Facebook @maketheroadnj for action alerts and to find all of their petitions.
About the Writer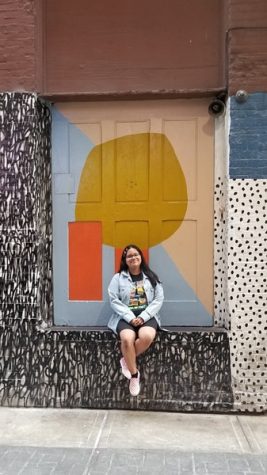 Nereida Delgado Garcia, Multimedia Editor
Nereida Delgado Garcia, Multimedia Editor, is a senior at Passaic Preparatory Academy. This is her third and final year at Prep. She's also part of the...