Student Spotlight: Bryan Perez, Student Council President
The Student Council President at Passaic Prep this year is senior Bryan Perez Mejia. Bryan is very active in student life and plans to go to college after graduation. He gave The Boulevard Online some of his time to answer a few questions.
The Boulevard Online: What do you hope to leave behind when your time at Prep is through?
Bryan: What I hope to leave behind when my time at Prep comes to an end is an increase in school spirit. School spirit is so important to me as a student since you can identify yourself with it and its community and students.
TBO: Has having years of experience (in school politics) encouraged you to run for Student Council President?
Bryan: At my age I count myself blessed to have been presented with so many opportunities to serve my community and school. Working outside of school has helped me greatly! It has taught me many of the valuable lessons I hold dear to heart. It has also helped me in my social and public speaking skills. 
TBO: For those reading, what should they expect from you?
Bryan: It is my pleasure to serve as your Student Council President. I apologize for any mistakes through my learning process. I was elected for this position not to govern, but to assure proper governance. Please, please, please reach out to me if you have any tips for me, any questions or suggestions. I would be more than happy to hear from our students to see what changes are wanted and needed.
TBO: What are some of your hobbies?
Bryan: My hobbies include: 
Reading

Crafting 

Traveling/visiting places 

Singing (I sing in the District Choir and The Academy Glee Club I also direct Youth Choral in my church)

Watching Musicals/plays 

Cooking! I love trying new recipes and learning about different cultures and their foods. The only video game I have actually played is Minecraft!
TBO: Who are the people who have shaped you to be who you are today?
Bryan: The people who have shaped me to who I am today have been a few people. My grandparents, who I grew up with. They both taught me my values and with that the teachings of Hope, Love and Faith. My teachers! Especially Ms. Barbetta, Mr. Stamet, Mr. Figueroa, Ms. Rice, Ms. Boyce. Mr. Dhuyvetter, Ms. Fraser, and Ms. Hassan. All who have pushed me to be inquisitive and not settle for less. I am so grateful to all our Prep staff, teachers, admin, and secretaries for being there for me since the beginning of my time here at Prep!
And my friends. These are the backbone of the Bryan you see in the halls. They are backstage of the show I call life. They have been there for me through the years and are a phone call or text away!
About the Writer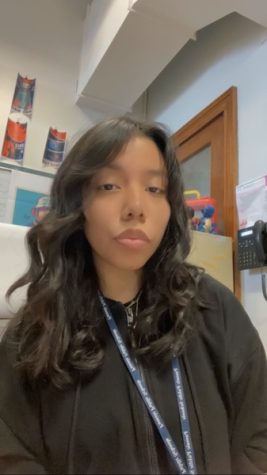 Yesly Rivera Garcia, Staff Reporter
Yesly Rivera Garcia, Staff Reporter, is a junior at Prep. She enjoys listening to music and spending time with her family and friends. She is a dancer...