Teacher Spotlight: Mr. Weaver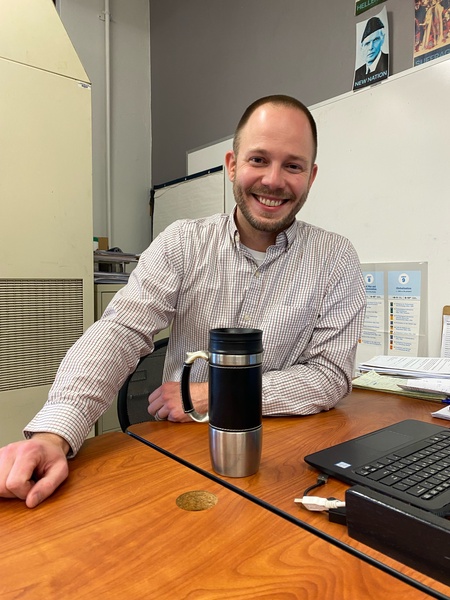 Mr. Lance Weaver is a high school World History and Social Studies teacher at Passaic Preparatory Academy. He used to teach at Conackamack Middle School in Piscataway for two years. He graduated from Rutgers University with a Bachelor's degree in history and a Master's degree in Social Studies Education. He taught in this building at Lincoln Middle School for more than six years and has been at Prep since the school opened four years ago. 
Other than being a teacher, he is married and a father of a 3-year-old and a 1-year-old. He has a passion for woodworking and making his own coffee!
The Boulevard Online: Who was your biggest inspiration growing up? 
Mr. Weaver: My biggest inspiration was my dad because he was such a hard worker and had made many sacrifices for me and my sister. He always pushed me to become the best man I could be. He was someone I knew I could go to with any issue and he would understand. 
TBO: What makes your style of teaching unique?  
Mr. Weaver: It's important to be yourself when you're teaching and being passionate in what you do. Not putting enough effort and care in what you do is something kids can see. I'm always trying to make it fun when I can and make it a fun learning experience. It allows them to look back and remember a class they actually enjoyed and wasn't just worksheets. When I was in high school things were boring and I have forgotten many of my experiences there. I want my students to carry these experiences and show someone actually cares and wants to help them succeed. 
TBO: How do you manage to balance your home and school life?
Mr. Weaver: I have two kids at home, a 1- and 3-year-old, and as soon as I walk through the door they take up all my time. It takes a lot of effort and It's all about balance and time management and trying to take time in the morning or throughout the day to get my schoolwork done.
TBO: What is one of your hidden talents? 
Mr. Weaver: I am into woodworking and have built my own bed and coffee tables and a desk and table islands. I have been doing this for eight years now, it's something I'm passionate about and is relaxing. It's a way of getting my mind off things. It's also great having something you worked really hard on in your house and the satisfaction of knowing you made that.
TBO: What is your dream vacation?
Mr. Weaver: I went on my dream vacation in Costa Rica, I went there for my honeymoon with my wife and we really enjoyed our time there. I like the wildlife there and beautiful beaches. I am also very adventurous and they have lots of adventurous places there. I hope to take my kids with me one day and they get to see how great it is for themselves.
TBO: What is the best/worst thing about being a teacher?
Mr. Weaver: The best thing would be having the opportunity to inspire kids and teaching them about history and allowing them to think differently about the world and give them different perspectives. The worst would be the grading and the endless list of paperwork and having little time for yourself.
TBO: If you could go back in time to change any historical event, would you change anything?
Mr. Weaver: I would stick with hunting and gathering rather than adopting agriculture.  While agriculture can feed and sustain more people, hunter-gatherers led a healthier active lifestyle with a more balanced diet.   Also, with agriculture you have the rise of cities which eventually leads to war, disease, class conflict and the patriarchy.  For me, just spending time outdoors with my family is where I want to be, even if that means giving up some creature comforts.
TBO: If you won the lottery, what would be the first thing you would spend it on?
Mr. Weaver: I would buy a vacation home for my parents. They've done so much for me over the years and I want to pay them back for everythings they've done for me. Where I am today as a person is because of them and I'd want to give back to them as much as they did for me. 
Thank you Mr. Weaver for giving us your time to answer these questions!