PHOTOS: Prep Embraces the Holiday Spirit
To say that Passaic Preparatory Academy embraced the holiday spirit would be the understatement of the year.
And just in time, with only two weeks left in 2021.
Prep students, staff and faculty teamed to make this holiday season not just a festive one for Prep, but also a safe, warm, inviting one for the community of Passaic.
Mr. Alessi's Toys for Tots Holiday Toy Drive collected more than 150 toys to donate to children in need. Ms. Mallory's Teen Outreach Program set a goal of filling 10 holiday baskets to give to the local community and ended up with 12. Mr. Figueroa and the Prep Student Council decked the halls and the school's foyer, spreading holiday cheer daily with colorful holiday decorations including trees, ornaments, and even a student Santa. And Ms. Taylor brought students to aid Certified Angels in a coat drive to keep local residents warm this winter.
Each teacher was overwhelmed with the generosity of the Prep community.
"We did better than I could have possibly imagined this year," said Mr. Alessi, who teaches Legal Studies. "Everyone from the students to the staff heard the call of children in need and stepped up in a major way."
Mr. Alessi said one student brought in 16 gifts on her own. Another student asked church members to chip in, and another went shopping with her grandmother and ended up giving several bags of toys. Donations rolled in right up to the deadline — and beyond it.
"It has honestly been so wonderful that every day when I turn on the lights and see that tree surrounded by those toys I swell up a bit inside," he said. "I mean, our students never met these kids and probably never will, but they spent their own money, time, and energy to make sure the less fortunate out there have a nice Christmas. What the students and staff did here for this toy drive is quite literally the embodiment of the holiday spirit. They gave of themselves expecting nothing in return. They did good for goodness's sake. I couldn't be prouder of everyone! And I thank them all from the bottom of my heart. I can't wait to show up to Toys for Tots to drop all these off and leave knowing we made a huge difference to so many families this holiday."
At Passaic Prep, making a difference is just another annual highlight of the holiday season.
About the Writer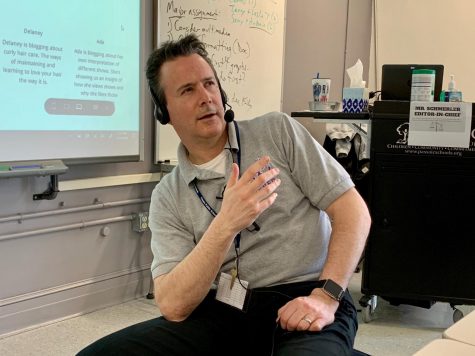 Mr. Schmerler, Adviser
Mr. Schmerler is the Staff Adviser of The Boulevard Online. He worked in the field of journalism for 25 years and has a Masters degree in Broadcast Journalism...