C&C Podcast with Mr. Contaldi and Mr. Costarelli: Episode 1
VOTE for which topics C&C should talk about in their next episode!
Pick a TOPIC for the C&C Podcast with Contaldi and Costarelli:
MUSIC: Which is better, the '90s or today? (31%, 59 Votes)
TV: Is Grey's Anatomy terrible? (30%, 57 Votes)
NETFLIX: Best current series ... Money Heist? (20%, 38 Votes)
FOOD: Best cafeteria lunch: Pizza? Popcorn Chicken? (11%, 21 Votes)
HOLIDAYS: Which is the most fun? (5%, 9 Votes)
FOOD: Which is the best dessert? (3%, 5 Votes)
Total Voters: 189

Loading ...
It's the podcast you've all been waiting for … the C&C Podcast, with Room 110 denizens Mr. Costarelli and Mr. Contaldi!
LISTEN to their introductory podcast, below. Then go to the POLL, right, and VOTE for which topic you want them to talk about in their next episode. And they HAVE TO TALK ABOUT THE WINNING TOPIC! They have no choice. So think it over and figure out what C&C should do in their next podcast. It's up to YOU!
Want to hear them talk about cafeteria food? Compare music from the '90s to today? The best show on Netflix? Cast your vote. They can't ignore it.
So do your homework. Brush your teeth. And listen to the C&C podcast. We'll be back with more C&C soon, talking about what YOU want to hear.
Music composed by Leslie ValdezCardon of Prep's Music Technology Pathway with Ms. Burgos.
About the Writer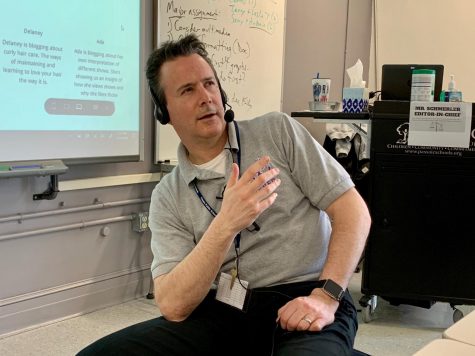 Mr. Schmerler, Staff Advisor
Mr. Schmerler is the Staff Adviser of The Boulevard Online. He worked in the field of journalism for 25 years and has a Masters degree in Broadcast Journalism...