Teacher Spotlight: Mr. Stamat honored as Passaic Hero
Sixth-grade math teacher makes FUN a part of the curriculum
MORE PROFILES from The Boulevard Online Staff:
Mr. Louis Stamat is a middle school math teacher here at Passaic Preparatory Academy and was recently honored by the City of Passaic District Board of Education as a "Passaic Hero!" This is his third year here at Prep, where he teaches sixth-graders. He has been a teacher for 20 years, all here in Passaic. 
Mr. Stamat's name was submitted to the Board of Education by Prep administrators as a Passaic Hero, and a short statement was read to the Board. According to Prep Principal Dr. Jason Marx, Mr. Stamat was selected "for the countless hours you spend working with your students. For the time you spend outside of the school day, catching students up, giving them a 'last chance' work session to improve their grades, to the countless phone calls with parents you use to 'motivate' your students.
"Despite not seeing you every day, your work and dedication has not gone unnoticed.  We truly appreciate what you are doing for our students." 
Mr. Stamat was kind enough to give some of his time to answer questions from The Boulevard Online:
The Boulevard Online: How long have you taught in Passaic?
Mr. Stamat: All 20 years. I had a chance to leave to teach in another city around my third year, but I loved the kids and School 9, so I never seriously considered it. Passaic is my work home.
TBO: How did you end up at Prep?
Mr. Stamat: Dr. Marx, the principal at Prep, used to be my principal at School 9. He asked me if I would come join him at Prep in 2018 to start the new school. At first, I said no because I didn't want to leave School 9. But then I thought about it more and decided to give Prep a shot.
"
I think kids will stay interested more in any subject they are taught if they find the material interesting or funny; they will want to listen to more of it."
— Mr. Stamat
TBO: How do you use your humor in the classroom?
Mr. Stamat: I think kids will stay interested more in any subject they are taught if they find the material interesting or funny; they will want to listen to more of it. So, I try to keep that in mind when I make my lessons.
TBO: Do you have any pets?
Mr. Stamat: No pets.
TBO: Tell us a funny story?
Mr. Stamat: One time, I was teaching 4th-grade math and I was getting the kids ready for a quiz. I noticed that a piece of paper was being passed around the back of the room. So, I asked what was going on and I saw that this student named "Ray" was trying to hide the paper in his pocket. I told him to take the paper out and give it to me. He walks up and hands it to me. This is what it was about: I am starting a Naruto Fan Club!
Another time it was Picture Day and there was a 4th-grader named Issac who I knew. He was dressed up and so I joked with him: Isaac, what happened to you? You look all fancy! And I have no idea why he thought of this, but he said, "I'm not Issac, I'm his twin brother Sly!" Now, this boy had no twin, so I knew he was trying to mess with me. So, I said, oh that is too bad, Sly! "Sly" asks why, Mr. Stamat? Well Sly, I had a chocolate bar for Issac, but since he is "not here" today, I guess I will give it to him another day. "Sly" was speechless. The next day, he came up to me. "My brother Sly told me you had a present for me!" 
"I don't know what you're talking about Issac. I was going to give your brother a chocolate bar, but I didn't find him. Tell him if I see him tomorrow, I will give it to him!" Issac was speechless. For about a week, we had the same conversation and I would keep switching the chocolate bar to the "other" twin. Finally, Issac admitted to me that there was no twin brother — he made it up. So I said thanks for telling me the truth, Issac. And, later that day, after he came to his class after lunch, there was a little box on his desk with an envelope. He opened it and found a chocolate bar. He opened the envelope — there was a piece of paper in it and it said,"From your brother Sly."
TBO: What do you do in your free time?
Mr. Stamat: I like to travel when I have a lot of time off. After school, I like playing guitar, reading, watching sports or detective shows, or texting my friends.
TBO: How did you get yourself entertained during quarantine?
Mr. Stamat: I learned how to be a better cook. I stopped burning stuff!
TBO: Is there anything that you enjoy doing?
Mr. Stamat: The thing I enjoy doing the most is laughing with my friends.
TBO: Where are you from?
Mr. Stamat: I was born in Montclair, N.J. It's a town about eight miles away from Passaic.
Thank you Mr. Stamat for giving your time to answer our questions!
About the Writer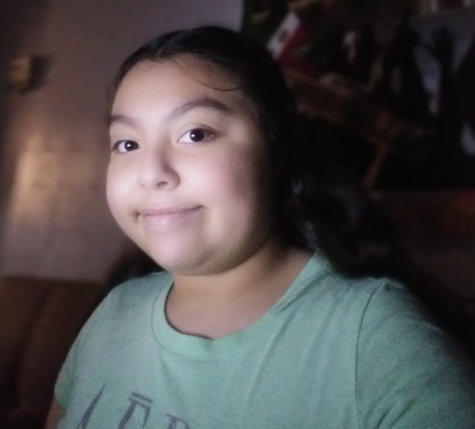 Yadira Gonzalez, Staff Reporter
Yadira Gonzalez, Staff Reporter, is a freshman at Passaic Preparatory Academy. This is her fourth year at Prep. She is involved in three clubs: The Boulevard...