OPINION: City Hall should raise the Pride flag
Will you sign an online petition?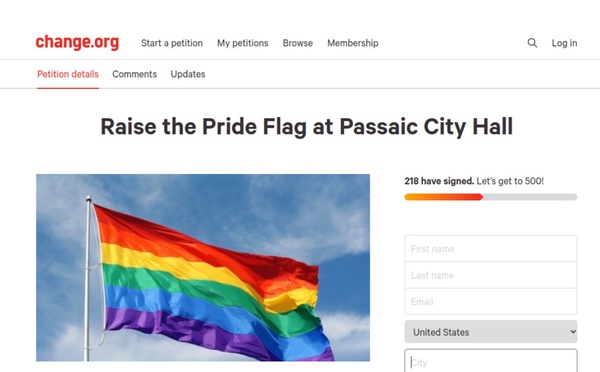 Do you identify with the LGBTQIA+ community? Do you consider yourself to be an ally? In the past couple of years there has been a movement promoting equality for everyone regardless of sexual or gender identity. We have seen this positive message spread all over social media, including Tik Tok, Instagram, and Twitter. 
However, these positive things appear to be happening elsewhere, not within our city of Passaic. There has never been a "Happy Pride Month" statement from any of our official representatives. No acknowledgement of the fact that June is Pride Month. A month dedicated to increased visibility, dignity, self-affirmation, and equality for the LGBTQIA+ community. It is a month where we break the stigma surrounding this community. 
In my opinion there has been a clear sense in the city of Passaic, primarily among families who hold on to traditional values, that being a part of the LGBTQIA+ community is wrong. Children, teens, and adults alike often feel uncomfortable with sharing their true identity around here. It is time to break the stigma! Raising the Pride flag at City Hall will show everyone that the LGBTQIA+ community is respected and celebrated. 
Passaic Preparatory Academy is taking a step forward and is proudly raising the Pride flag on June 1. This is a momentous occasion, as it is the first time in Passaic history that a public school will raise the Pride flag. This raising will be a symbol in our community, showing all members of the LGBTQIA+ community that they are appreciated and welcome at our school. 
We ask for your support. Open this petition and sign to get City Hall to raise the Pride flag! https://www.change.org/p/mayor-hector-lora-and-passaic-city-council-raise-the-pride-flag-at-passaic-city-hall?utm_content=cl_sharecopy_28424867_en-US%3A3&recruiter=1093753942&utm_source=share_petition&utm_medium=copylink&utm_campaign=share_petition&utm_term=tap_basic_share