CTE Student of the Month: Michelle Carpinteyro, Digital Arts Level 2
Passaic Preparatory Academy senior Michelle Carpinteyro is the CTE Student of the Month in Digital Arts and Animation, Level 2!
Mr. Watson, the adviser for the Digital Arts Pathway, chose Michelle for this honor. He said she is always on time and consistently contributes to class discussions.
"Her assignments are always handed in by or before the deadline while showing a great understanding of the content knowledge being taught, as well as an incredible amount of effort in the execution," Mr. Watson told The Boulevard Online.
Carpinteyro said she is thankful for the achievement. She is the first student to be recognized from this Pathway.
A determined individual and leader, she strives to do her best work possible while helping others accomplish the same. 
"Art is in everything," she said. "Oftentimes, the classwork can be individual work. However, I do attempt to reach out to classmates and talk about what they're working on. Keeping that communication, especially through this time, is important to me."
She credits the Pathway for helping teach her how to think outside the box and reinforcing skills. 
Carpinteyro's love for art extends beyond the classroom. She is involved in Nuestras Historias Magazine, a student-run literary magazine for Latinx Voices, where she works as an illustrator and applies the skills she's learned in the Pathway.
"It has allowed me to explore," she said. "I feel that this is an important trait to have in life after high school, since many of us will experience new things."
The best part of the Pathway is the freedom to create, she added. She loves that there is always room to incorporate one's own style into specific projects.
Carpinteyro admits that while she was indecisive about which Pathway to choose, she fell in love with the Digital Arts Pathway. 
"It is never boring, and you are always free to explore, whether it be with different forms of medium or different ways in approaching a project," Carpinteyro said. "It is always exciting, and the people you meet in this Pathway make it an unforgettable experience."
She advises younger students who are considering coming to Prep for this Pathway not to hesitate.
Check out Michelle Carpinteyro's artwork in the photo gallery, above!
About the Contributor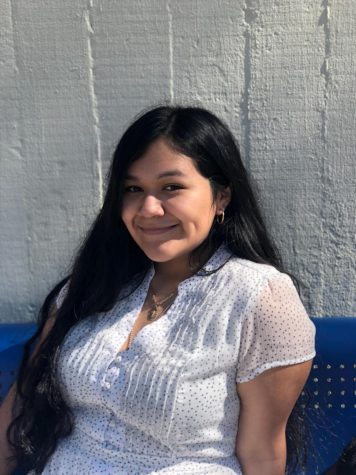 Melissa Reyes, Editor-In-Chief
Melissa Reyes, Editor-In-Chief of The Boulevard and The Boulevard Online, is a senior at Passaic Prep Academy. She is a self-proclaimed history fanatic....