Musical Theatre Showcase, run by Prep student Pablo Palafox
Senior Pablo Palafox is leading a musical theatre showcase at Passaic Preparatory Academy.
The performers will showcase two songs, one each from the musicals, "You're A Good Man Charlie Brown" and "Catch Me If You Can." 
The performances will focus on "different aspects of theatre, with one being focused on dance and the other on acting," said Pablo. 
The fully remote showcase is expected to take place in late February. Pablo hopes to include as many actors as possible from Prep and Passaic Academy for Science and Engineering (PASE), as well. Pablo will direct the showcase while Theatre Pathway leader Mr. Anderson guides them through the process. 
Prep students Stephanie Carpinteiro and Elisa Matos will choreograph with the help of Claudia H Stein, Mr. Anderson's wife who occasionally assists in choreography, an advisor for the theatre program. Ms. Fischer from Passaic Gifted and Talented Academy School #20 will help with a vocalist track. Rehearsal will begin this week, through Google Meet.
"I would like to thank everyone that has offered support, and a special thanks to Mr. Anderson for giving me this opportunity," said Pablo.
Mr. Anderson said the Theatre Pathway at Prep is all about helping students get the experiences they want.
"While we offer the traditional Fall play and Spring musical, that is only one part of what being an artist entails today," Anderson said. "Students must get film of their work and create a reel. When a student directs, it gives more reel opportunities for the student actors. It's a win, win, win for everyone.
"When I have the privilege of seeing a student direct, I am brought back to my Directing 101 class. I can move away from the bias that 100s of theatre shows have developed in me. I am there to watch a student grow, and honestly learn from them. I will never forget during Little Shop of Horrors watching Seymour pick up the rose as he remembers Audrey. That's my proudest moment in my directing career; and a student suggested it to me. "
About the Writer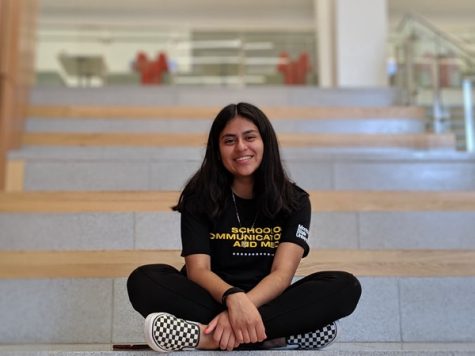 Michelle Carpinteyro, Features Editor
Michelle Carpinteyro, Features Editor, is a senior at Passaic Prep Academy. She enjoys painting and can usually be spotted doodling in her notebooks. She's...