Clubs of Prep: Which have remained, which have said bye-bye
The Covid-19 pandemic took us out of school at Passaic Preparatory Academy since March 13. We continued classes online, but extracurricular activities took a hit, especially the clubs. While some sports are still taking place, many clubs have not come back remotely. 
For those that did, how are they meeting? Let's see which clubs still exist at Prep, and which could not stay alive through the coronavirus pandemic.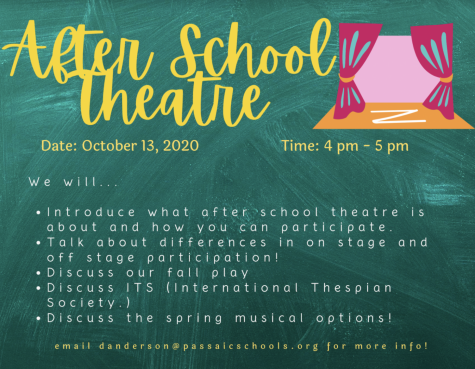 Theatre Club
The Theatre Club is supervised by Mr. Anderson. It is a club where students develop skills in acting, communication and public speaking. The club meets 3-5 days a week depending on your role. Students are given a schedule early in the process. The club is available to all students and experience is not needed.
Although all are welcome to join, the club is audition-based. Even if you are not admitted the first time, Mr. Anderson encourages you to keep trying.
The Theatre Club will compete virtually at the International Thespian Society on Jan. 16-18, 2021 and will pick around 16-20 students based on qualifications and application answers.
The club also plans to put on a musical this spring, which may be presented virtually, outdoors, or in-person, depending on current pandemic conditions.  
If you would like to join the Theatre Club, be sure to email Mr. Anderson for the Google Classroom code at [email protected].
Journalism Club
Advised by Mr. Schmerler, the "J Club" is thriving through the online news media site, The Boulevard Online. As a member of the Journalism Club, students are taught about editing and writing, given the chance to develop their reporting skills. They report from school events to national events that affect our community. 
Senior Melissa Reyes is the Editor-In-Chief of The Boulevard: "Journalism has allowed me to find my voice through reporting. I used to be so afraid of interacting with strangers. Now, I don't think twice about doing it. Being involved is definitely a lasting experience. It's a huge responsibility because as a journalist, you are being trusted to tell not your truth, their truth, but the truth." 
If you are interested in writing, photography, researching, interviewing or reporting, then this is the club for you! Meetings are every Tuesday after school via Google Meet. Join the Google Classroom with the code n4vss3n, and for more information you can contact Mr. Schmerler at [email protected] 
National History Day Club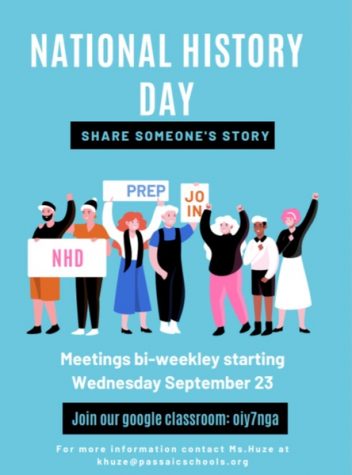 Ms. Huze, the adviser since 2016, has developed National History Day into a very successful club. NHD is a club where students from both middle school and high school create a project based on a yearly theme and compete with students from all over the country. This year's theme is Communication in History. 
Students are given the opportunity to develop an exhibit, a performance, a website, a documentary, or a paper. Students may choose to work individually or in groups of up to five. The paper, however, has to be done individually. Students are then given the opportunity to present their research to a panel of judges. This allows them to develop their communication and presentation skills.
The NHD meets bi-weekly on Wednesdays after school through Google Meets. Make sure to join if you want to complete advanced research and work with a community of individuals who will guide you through your journey in this club. For more information you can reach out to Ms. Huze at [email protected].
Youth Climate Activists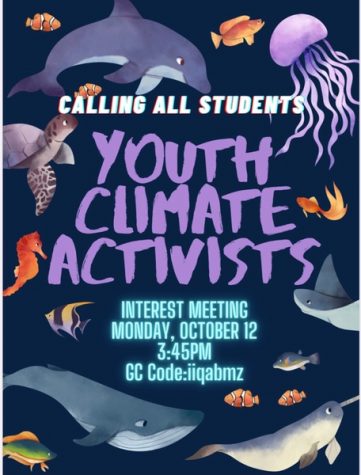 The Youth Climate Activists, advised by Ms. Blumberg, is a club dedicated to making Prep as eco-friendly as possible. Last year they held a plastic bottle collection competition. In a week over 1,000 bottles were collected! This year the YCA is working on fundraising where half of the proceedings will be donated to organizations. If you are conscious of the drastic change in climate and want to help, this is the perfect way to do so. 
Meetings are held every Monday after school. Be sure to join the Google Classroom. For more info you can contact Ms. Blumberg at [email protected].
Student Council
Advised by Mr. Figueroa and Mr. Weaver, Student Council is well known for its devotion to making our school a better place and we can't forget about its dedication to fundraising. Every corner you turned in the hallways you would find a member selling candy bags or cookies. It's safe to say that we all loved to see the passion. Fundraising will continue this school year according to the advisers, though plans are not definite.
This year, fundraising money will go to help people in our city and those at Passaic Prep. 
Student Council is continuing their meetings virtually via Google Meet. Members meet biweekly after school from 3:40-4:40 p.m. The club counts 74 active members and is gladly accepting anyone who is interested in joining their team. The only requirements are having a minimum of a 2.5 GPA and having no disciplinary record. 
The council works with the Youth Council of Passaic to do community clean ups and volunteers at food drives.
If you want to shape policy, work with administrators to improve our school, put student activities together, serve our community and most importantly, be the voice of our student body, then this is the place for you.
The last day to join is Oct. 28 with the finalization of the student council elections. After that no more members will be permitted until the next school year. 
If you are interested be sure to contact Mr. Figueroa at [email protected] or Mr. Weaver [email protected] 
Model Congress
Model Congress provides students with a foundation in civic education. Within this club students will demonstrate critical thinking, analyzation, and interpretation. Students will learn about the three branches of government and explore their functions. Students will also understand how a bill becomes a law on the federal level and can differentiate between national, state and local governments.
 If you want to become an engaged citizen, understand how our government works and share your opinions on controversial political issues then this is the club for you!
For more information you can contact Mr. Costarelli at [email protected]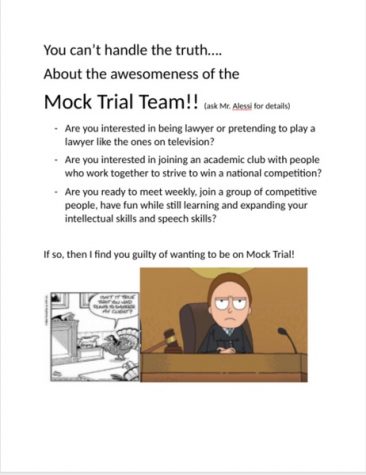 Mock Trial
Run by Prep's very own law teacher, Mr. Alessi, the Mock Trial Team is full of determined students who show an interest in the field of law. The club meets once a week "and prepares the students to go to the different levels of mock trial competition that is held annually in New Jersey." Mr. Alessi reveals they are "given a complete case history from the group that runs the Mock Trial in NJ.  It is filled with all sorts of cool things like witness testimony, affidavits, depositions, police records and all things you would need to hold a trial." Students are then given a part to play in the case, whether it be a witness, juror, prosecutor, defendant, etc. They are then expect to act out the trial in the most accurate way.
"We will work to be able to beat other teams in the competition and try to move up to county and maybe even state or national levels," Mr. Alessi said. "It is exciting and fast-paced.  Everyone is very dedicated to try to win and I hope we do."
Everyone is free to join, so make sure to contact Mr. Alessi at [email protected] for more information!
Debate Team
Advised by Mr. Alessi, the Debate Team will meet once a week and will allow students to learn how to debate current topics. Students will practice and improve on public speaking skills, research and writing skills and most importantly argumentative skills.  
Mr Alessi: "The goal of the debate team is to create students who excel at thinking logically and rationally about an argument. Creating intelligent and well-reasoned arguments to the topics and delivering them with precision in an oral debate. The goal is to 'fight about it' as eloquently and articulately as possible."
Anyone can join! If interested contact Mr. Alessi soon at [email protected]. 
National Honor Society
The National Honor Society is welcoming a new advisor this year, Ms. James. The NHS is an organization that brings together students who demonstrate high levels of scholarship, leadership, service, and character. Applications are open every winter to sophomores, juniors and seniors. 
For more information contact Ms. James at [email protected].
Dance Club
This Latin Dance Club will not be available this year, but there will be a Dance Club, guided by new Dance Pathway teacher Nyasia Fraser. See her profile, here.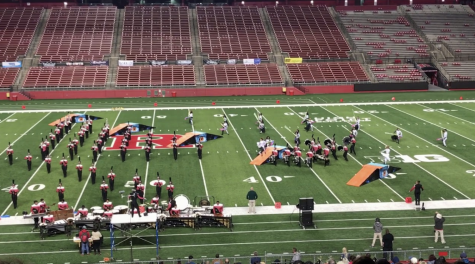 Marching Band
The Marching Band, directed by Mr. Rusca, is renowned for excellent performances. Students love seeing them, and whenever they show up to an event, we know we will all have a good time. This year things are different and so is the way the band is conducted. Because Marching Band is an in-person activity, members are not able to meet up and practice like before. 
Their music, however, will not be stopped, not even during a pandemic. The band still holds virtual practices weekly from 4-5:30 p.m. 
For more information, contact Mr. Rusca at [email protected].
More clubs:
About the Contributor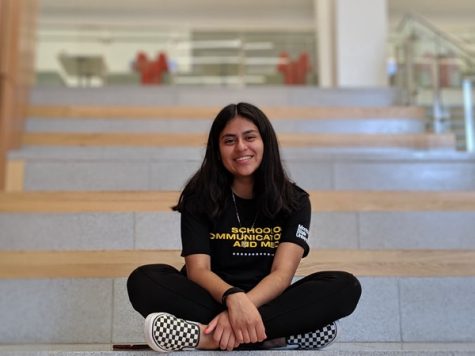 Michelle Carpinteyro, Features Editor
Michelle Carpinteyro, Features Editor, is a senior at Passaic Prep Academy. She enjoys painting and can usually be spotted doodling in her notebooks. She's...