Tropical Storm Isaias hits Passaic
How did the storm affect you?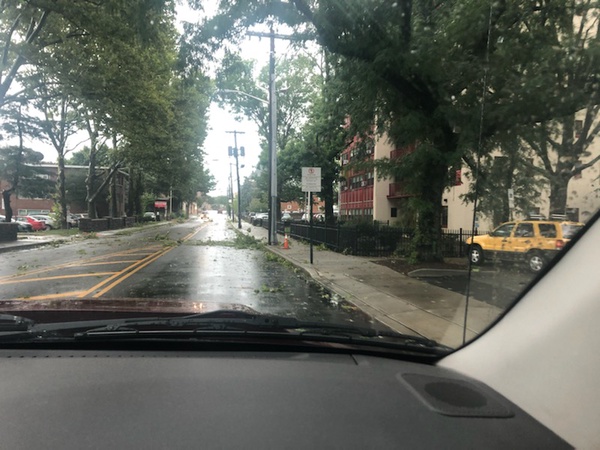 A day after Governor Phil Murphy announced a State of Emergency across New Jersey due to Tropical Storm Isaias, the storm swept over the City of Passaic on Aug. 4. 
Mayor Hector Lora told the city via a FaceBook Live: "We have effects all over the city" with "more than 80 incidents of lost power in our city." 
Isaias did not cause major flooding in Passaic as it traveled through neighboring cities such as Clifton, Wallington and Garfield, knocking down trees and power lines, leaving hundreds of Passaic residents without power. 
Mayor Lora warned the city on Aug. 3 through FaceBook Live, asking residents to be prepared with charged phones and charged batteries and to not use candles in the case of a power outage. Lora also asked residents to bring inside things that could easily be carried away by the wind.
According to USA Today, Isaias left seven dead along the East Coast and thousands without power through the night. Gov. Murphy spoke on the topic during a COVID-19 press conference on Aug. 6. 
"We're down to approximately 447,524 outages statewide from a peak of 1,400,000," Murphy said. "I've been calling the utilities and pressing them to restore power as quickly and safely as possible.
"As we continue to work to get the lights back on across New Jersey, I urge you to check in on your neighbors, friends, and family – especially the elderly and the vulnerable. Make sure they're okay and see if they need anything. Let's keep looking out for each other." 
Neighboring cities such as Clifton have had their power restored as of Aug. 9. Driving around in the aftermath of the storm was truly an eye-opener on how rough Mother Nature can be. The days following the storm, while on a drive, many fallen trees were still not picked up. 
People from neighboring counties are still suffering from power outages. As of Aug. 8, there were a total of 150,000 power outages statewide.