Prep Takes Home Two Trophies at Theatre Awards Night
Montclair State's Foxy Awards celebrate Prep's "Antigone"
MORE from our Entertainment Department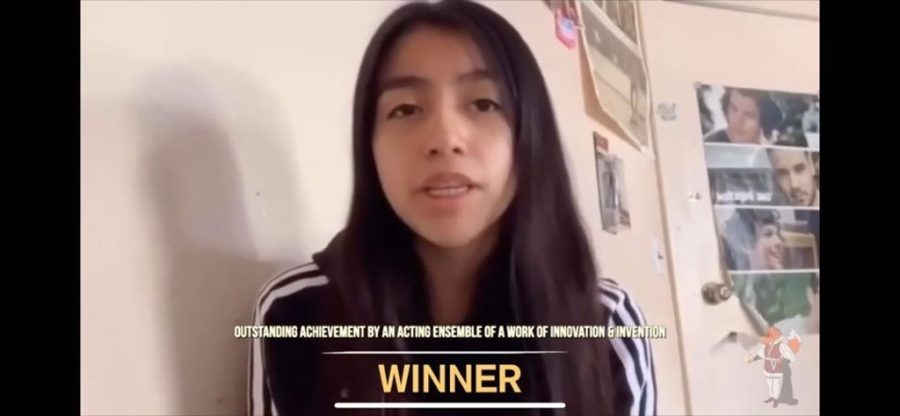 Passaic Preparatory Academy students in the Theatre Pathway were nominated for eight awards and won two for their November production of "Antigone" at the virtual awards show "Foxy Awards," hosted by Montclair State University.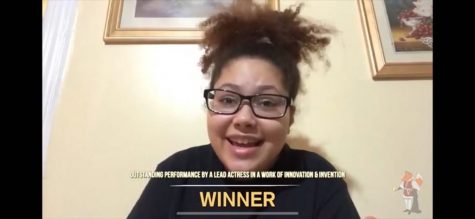 The nominees from Prep: 
Outstanding Performance by a Lead

Actress in a Work of Innovation and Invention: Lixangelys Ruiz

Outstanding Achievement by an Acting Ensemble in a Work of Innovation and Invention: Ensemble

Outstanding Achievement in Dramaturgy: Mr. David Anderson

Pushing the Envelope in Academic Theatre: Mr. David Anderson

Outstanding Work by Supporting Actress in Work in Innovation and Invention: Chynha Wright and Wileily Gomez

Outstanding Work by Lead Actor in a Work of Innovation and Invention: Pablo Palafox

Outstanding Work by an Acting Ensemble in a Work of Innovation and Invention: Ensemble, for "Antigone"

Outstanding Work of Innovation and Invention: "Antigone"
Senior Lixangelys Ruiz, recently honored as the Salutatorian for Passaic Prep, won for Outstanding Performance by a Lead Actress in a Work of Innovation and Invention. Additionally, the ensemble in "Antigone" won for Outstanding Achievement by an Acting Ensemble in a Work of Innovation and Invention, giving Prep two awards on the night. The awards ceremony was held online due to the coronavirus pandemic.
"I feel honored and very excited about winning the Montclair Foxy Award!" said Lixange-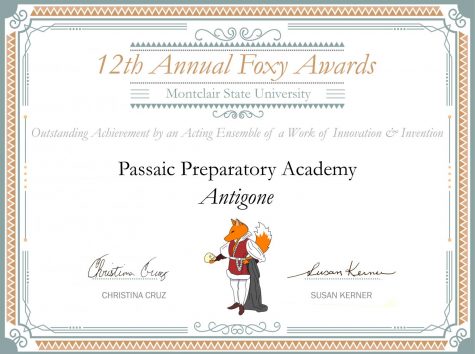 lys. "It eased my doubts about my theatre skills a little bit. It was a sign that I should continue to do what I love."
Ruiz, who will attend Montclair State in the fall, also had a few words to say about graduating from Passaic Prep this year. 
"I am sad to be leaving the Passaic Preparatory Academy theatre program," she said. "I wish I had more time with it. I'm so proud of our program, it has grown so much. This journey with Anderson and our theatre team has been amazing. I didn't know in the beginning how much of an impact it was going to have on me. I will continue to be involved with Prep and our theatre program. I will give back to where I came from. I love us so much! Passaic Prep forever!" 
Prep's version of "Antigone" was adapted by a professional playwright for the school to use. 
Mr. Anderson, director of "Antigone," had a few words regarding the awards won and the theatre program as a whole. 
"We are thrilled to continue to make Passaic Preparatory Academy proud," he said. "Our students continue to work hard and drive our theatre program towards success. Our feedback sheets indicated how impressed the judges at Montclair were with the students' direct interaction with the professional playwright and their influence on the play with Spanish translations. 
"We're incredibly sad to see Lixangelys and the other seniors leave, but are glad they were first to fill our trophy case. We are excited to see what new students step up to help us take home even more awar-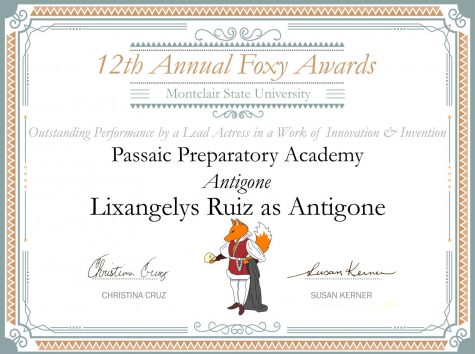 ds next year."
The Prep thespians were not able to perform their spring musical, which was scheduled to be "Legally Blonde," but was cancelled due to the Covid-19 pandemic. The students were devastated, especially the first graduating class at Passaic Prep.
Senior Wileily Gomez, one of the program's three dance captions, said it was not easy to accept her high school theatre career being over without the final musical.
"Not being able to perform has been difficult to cope with," she said. "It is my senior year and I have been performing since primary school, so not seeing the curtains close on the last performing night feels like there will be no clean-cut wrap on my time performing on the school's stage. However, I am very thankful for the experience overall because of all the relationships I built and all of the new skills I acquired."
Although these are rough times Gomez said she and her castmates can look at the bright side.
"After looking back at the endless rehearsals and all the hard work we put in, it is easy to conclude that what we see as a tragedy will only make us stronger."
About the Contributor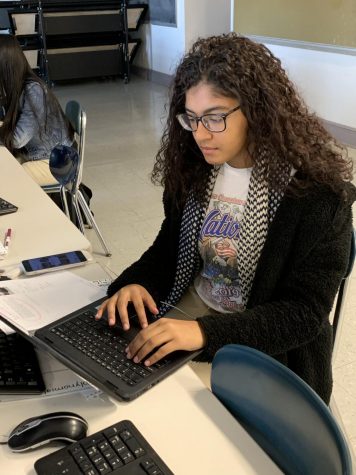 Leslie Taveras, Staff Reporter
Leslie Taveras, staff reporter, is a senior at Passaic Prep Academy. She spends most of her time at play rehearsal and doing homework. She loves to be...