A Show Within a Show: Behind the Scenes of Prep's High School Musical
What goes on behind the scenes when Prep puts on a musical?
When people watch a performance at Passaic Preparatory Auditorium, or at any auditorium at all, the audience only sees the final product. They do not see who or what makes the performers seen, heard, or costumed, and able to make the show come to life. 
There are many people behind the scenes controlling lights, sound and props, and then there's the cast. The shows here at Passaic Prep are a really big deal, not only for the cast but for the crew and teachers who direct because of the effort and time that goes in. 
Even before the cast has been picked, the directors have to research shows, prepare contacts and audition materials, and then stay after school to watch kids audition for parts. 
During rehearsals, the crew is like a family. Daniella Velazquez, the lead in this year's musical "Legally Blonde," had a few words to say about the rehearsal process and her struggles and strengths with playing such an important role.
"I would say my biggest struggles as Elle are probably finding her motives and how to bring her to life," she said. "I'm still trying to figure out who I am, too, so that doesn't help me much, but I'm always doing research on her character and trying to find ways to make Elle into my own version of Elle. 
"I'm just watching the movie and reading the book and slowly figuring out that all she really wants is to find love and to prove to everyone including herself that she is an intelligent woman. I'm so learning more about myself through Elle despite our differences, we do have some things in common."
This year's three talented dance captains and assistant choreographers also had a few words to share about their take on this year's musical and the job they face. 
"As weird as it may sound, stress is key for us," said Stephanie Carpinterio, one of the three dance captains. The others are Elisa Matos and Wileily Gomez. "We work better in a challenging environment. But there are days when we have bad stress because we cannot learn the choreography as quickly as we want. If that ever happens, we just go to the side and take a breather, have a pep talk to each other and try again. Our fellow cast members also help relieve stress, they make the environment comfortable. We try our best to cater to everyone's different learning styles. 
"When we see the final product, it gives us a warm feeling. We enjoy watching the dance ensemble have fun, laugh, and smile. It makes us feel like proud mothers."
TECH CREW  
What many people outside of theater don't realize is that the play is for everyone. There are many stereotypes about how drama is only for nerds and uncool people, but that is not the case at all. The cast is made up of all grades, 8 through 12. It is open to anyone who wants to participate, and it provides everyone with a sense of belonging. The tech crew is a group of 2-4 students who work with Mr. Anderson. The tech crew's job is to control the lights and the music for the musicals and plays. Before tech can be added to the show, the lighting board has to be loaded with light cues that are unique to each scene. These light cues are important to show changes in the scenes and provide special effects for the different events happening on stage. 
In preparation for the upcoming musicals and plays, the tech crew must get to the auditorium right after school to set up the stage and test the microphones for the cast. They make sure all of the electronics are working properly and are in order. The tech crew is also responsible for sound cues that are needed for different sound effects, such as bells, thunder, animals, etc. 
STAGE CREW  
The stage crew changes the sets, controls the curtains, maintains the props, and directs the cast to get ready for their next scene. Many people might think, "Oh, that's easy," but it's really a lot of work because there are only three members on the stage crew, and they have a lot on their hands. Communication is essential to the stage crew. For instance, when the curtains need to be closed or when the set needs to be changed, the stage and tech crew all communicate through walkie talkies or headsets. 
CAST
Many people probably know what the cast does, but what the audience sees on stage does not come from just one practice. Final performances are a result of a dedicated cast that rehearses almost every day after school. 
Two weeks before opening night, the cast and both crews stay after school and run through the entire show, practicing, fixing things that need to get fixed, making sure everyone knows their cues. Although the process is hard sometimes, there is a great team working together, one big family who are all doing something they love. When watching a performance or even our spring musical, "Legally Blonde!" think about how much work goes into putting together that amazing performance. 
The musical was scheduled to be held April 3-5 at the Passaic Prep Auditorium, but has been postponed due to the coronavirus pandemic.
About the Writer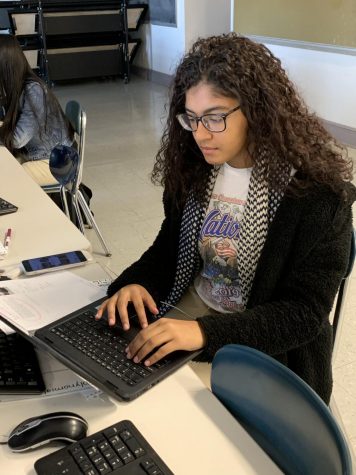 Leslie Taveras, Staff Reporter
Leslie Taveras, staff reporter, is a senior at Passaic Prep Academy. She spends most of her time at play rehearsal and doing homework. She loves to be...