Passaic Boys Basketball Continues Strong Season
Mid-season update on the Passaic boys basketball team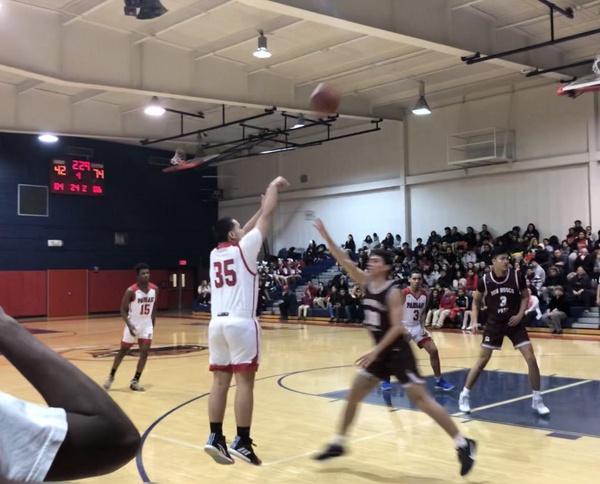 The Passaic varsity boys basketball team played Don Bosco Prep on Jan. 28 at PHS. The Indians were soundly defeated by Don Bosco, 76-46.
However, this one game wasn't a summary of the Indians' season, as their record is 13-6. The Indians still have at least four big games left:
Feb. 20 at Paterson Eastside

Feb. 22 at Paterson Kennedy, county tournament semifinals

Feb. 27 home vs. Morris Hills

March 3 at Paterson Eastside, first-round state tournament
Head Coach Paul Pomykala said he hopes his team can make its mark in the big tournaments.
"Our current goal is to make a run in the county and state tournament," he said.
Passaic already is in the semifinals of the Passaic County Tournament. The fifth-seeded Indians knocked out fourth-seeded Wayne Valley and will face Kennedy in the semifinals on the road Saturday, Feb. 22.
The state tournament begins on March 3 for the ninth-seeded Indians at the eighth-seeded Eastside. The winner gets top-seeded Kennedy.
Coach Pomykala said the staff works hard to prepare players for every game and the players are self-motivated, as they hype each other up before the game.
"My coaches and I work extremely hard on preparing our guys for each game," he said. "It's the players' dedication to learning the game and working hard that will take our program to the next level.
"I have a group of players that are really self-motivated. Before the games, I just go over the game plan and let them know it's time to represent Passaic."
The Indians manage to keep the winning record because the team has many leaders, according to the coach.
"Between competing with each other in practice and playing in very tough games, I feel like our team is full of young men that are leaders," he said. "Having nine seniors that have the drive to win is one of the main reasons why our team has been successful this year. Senior Coby Sylvester and junior Travis Pittman have been named captains due to their commitment to summer and fall workouts." 
Senior Cam'ron Sylvester, better known as Coby, leads the team in points this season. Junior Antrell Monroe leads the team in assists and steals. Senior Kendall Malloy leads the team in rebounds and Pittman leads the team in blocks.