Hear from the Passaic boys soccer team after an outstanding season
Indians soccer teams excelled and varsity went to county final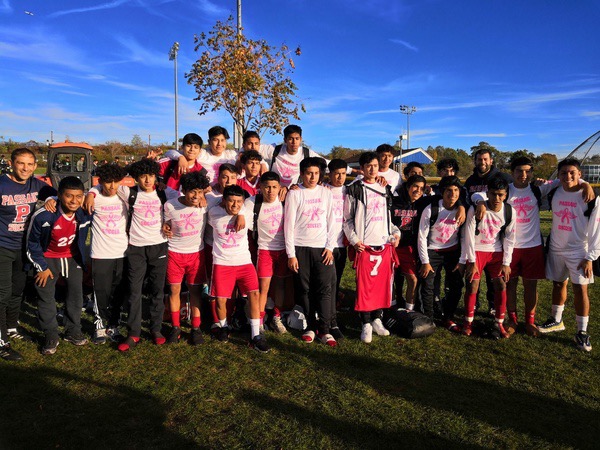 The Passaic boys soccer teams, both JV and varsity, wrapped up strong seasons this fall. 
Coach Pollaro and Coach Turdo guided the varsity team to an impressive 14-6 record. Coach Renato Rosa led the JV team to a record of 9-4-1. 
The varsity boys had many highlights, including reaching the final of the Passaic County Tournament. The Indians lost in the final to a powerful Clifton club, but used the momentum to cruise into the state tournament. Although Passaic lost in the first round at states, it didn't take away from the great experience the team had together.
We asked some of the boys about their favorite moments from the season: 
"Scoring the winning goal in the semifinals to make it to the county finals. I felt really excited at the moment. I didn't know how to celebrate. With my teammates hearing everyone cheering and screaming my name, it was an amazing feeling. I would like to thank my teammates for a good season and also say thank you to the coaches that supported me and pushed me and thank the people that supported me."
"Actually making the team, since I wasout 2 weeks prior to tryouts because I was sick and many of the seniors were cut. I decided to try out. Another favorite memory is leading up to the county finals and when I had faked an opponent from Clifton and heard all of the fans chant for me."
Giovanni Quirino, Varsity
"Winning our county semifinals, because last year we lost in our semis so it felt good knowing we were going to the finals this year. It felt very exciting. Although we didn't get the results we wanted this season, we worked hard. This year we will work just as hard to get better results."
"This record was better than last year's, and it's a good thing because it's showing improvement to the team."
Orlando Valdez, Junior Varsity
"The highlight was that we ended up having one of the best JV seasons ever in Passaic. We played with the mentality that we were going to win, and most of our games went that way. Throughout the season there were many struggles that we ended up overcoming as a team and with the help of our coach, we made our season unforgettable."
Alexis Marmolejo, Junior Varsity