Football: Indians take the W at Homecoming Game
Homecoming King and Queen are crowned on the big night
In a season of ups and downs, the Passaic High football team rose up when it mattered most.
Fans roared on the evening of Nov. 1 when the Indians took the field for the annual Homecoming Night game against the Kearny Kardinals. That night, many Indians fans celebrated alumni night, as many former Indians returned home to support the team and the school and look on as the Homecoming King and Queen were elected.
On the field, the Indians could not be stopped, rolling to a 28-0 lead by halftime against the Kardinals.
As the game rolled on, the Indians received huge contributions from Jamair Diaz, who led the defense with three sacks and five tackles. Frankie Gonzalez connected on a 37-yard field goal, Antrell Monroe sparked the rushing game and Jeremyiah Johnson led the passing game.
In the fourth quarter, the Kardinals were finally able to get on the board with a touchdown and a two-point conversion, but it didn't matter because when the final whistle blew, the Indians had won, 37-8.  
The mighty Indians were joined in celebrating the evening by Passaic Prep's homecoming King and Queen winners, Hector Matos and Denisse Mendez. They celebrated by going on an Army Jeep and waving to the Indians fans.
Fernando Paredes, captain of the cheerleading team, said, "I thought it was a night full of joy and just a competitive feel, with the crowd going wild for every play and the anxiousness of finding out who would be our new Homecoming King and Queen."
About the Writer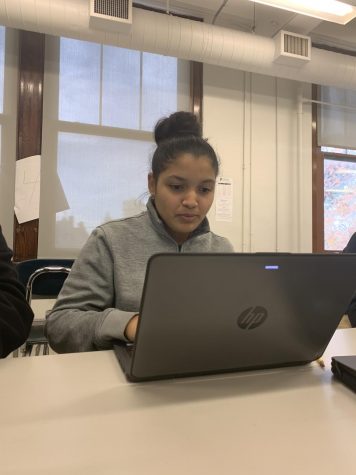 Carolina Ramos Bonilla, Editor-In-Chief
Carolina Ramos Bonilla, Editor-in-Chief of The Boulevard and The Boulevard Online, is a senior at Passaic Prep Academy. She spends most of her time reading...