Marching Band Continues to Shine
Music wafted through the air as Passaic High School's award-winning Marching Band practiced for upcoming competitions. The Marching Band is made up of extremely dedicated students who perform at pep rallies, parades, and at winter and spring concerts.
 Being an award-winning Marching Band is not easy. Marching Band members have up to five rehearsals per week under the direction of Mr. Christopher Rusca, the band teacher who takes time out of his life to make the Marching Band what it is today. 
As much time as band members spend together at practice, they have started to see each other as a family. 
"Whenever we go out into the field we are obviously nervous," said Marlene Perez Ramirez, a freshman clarinet player. "But seeing everyone getting ready and knowing that whatever happens we are in this together. Putting all this time and effort into work takes time and dedication." 
"Marching Band is not what I do, it's who I am," said sophomore Alondra Romero Ramirez, a member of the color guard. "It's gotten me out of my comfort zone. Rusca has shown me the other side of life. He has given us tough love. I never understood why he yelled or got mad at us when late to practice, but now I do.
"Marching Band is preparing us for life! He shows us how to work with one another, how to get out of our comfort zone."
The Marching Band placed second in state competition on Oct. 30 and third at Nationals on Nov. 1. The band continued its long tradition of performing at Homecoming, where members said they performed very well. 
 "This was one of our best performances at a football game," said Jasmine Reyes.
"Even though we are nervous ourselves, we look towards our left and our right and see we are all nervous," said Nereida Delgado.
The band also performed at the Thanksgiving football game against Clifton, the last year for the rivalry game.
Melissa Reyes contributed to this report.
About the Writer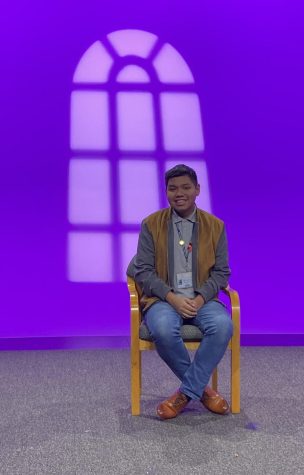 Bryan Perez, Staff Reporter
Bryan Perez M., Staff Reporter, is a senior at Passaic Prep Academy. He spends most of his time helping out the Student Council. He loves music and playing...