Prep Students Clean Up Pulaski Park
Youth Climate Activists Club takes local action
Passaic Preparatory Academy students joined Passaic Community Heroes in cleaning up Passaic's Pulaski Park on October 19.
Along with the Youth Climate Activists adviser, Ms. Fitzgerald, the 16 students cleaned the park from 9-11 a.m. Students recycled materials by having separate bags for glass, plastic and metal.
"It was not only helping clean up our parks, but it also sparked a sense of unity in our community," said Michelle Carpinteyro, a student at Passaic Prep.
Students found many different things ranging from discarded alcohol bottles to hangers abandoned at the park.
"My brother found a syringe," Carpinteyro said. "It was extremely shocking to see just how much we neglect our parks. The act may not be grand to some but the outcome will make a lasting mark." 
After the park cleanup was over, a member of the Board of Education, Judith Sanchez, commended the students for partaking in community service.
"Passaic students keep Passaic clean," students chanted.
For more information on how to get involved with your community, contact Ms. Fitzgerald to join the Youth Climate Activists Club. The club plans to address climate change head-on through informing people and being involved in park cleanups.
About the Writer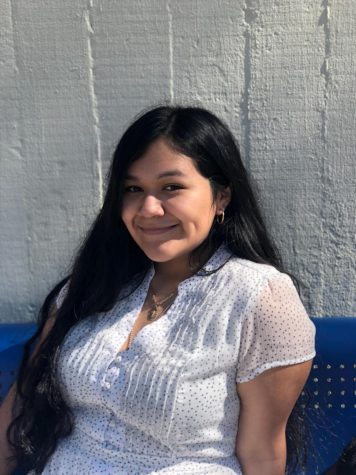 Melissa Reyes, Editor-In-Chief
Melissa Reyes, Editor-In-Chief of The Boulevard and The Boulevard Online, is a senior at Passaic Prep Academy. She is a self-proclaimed history fanatic....