"CLUE" All you need to know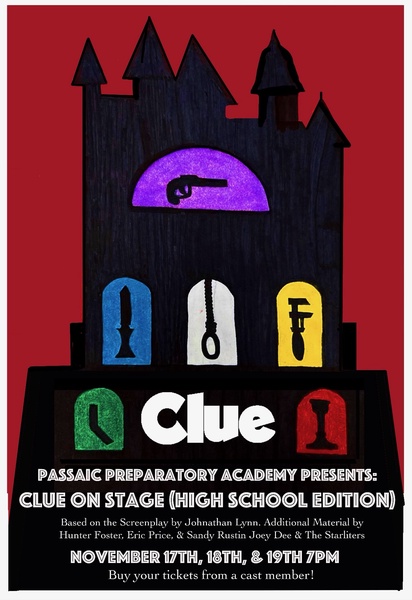 The theater production of "Clue" will take place from Thursday through Saturday, Nov. 17-19, in the Passaic Prep Auditorium at 7 p.m. each night. Here's all you need to know:
Starring, from Prep and PASE: 
Wadsworth

= Richard Valdez 

Yvette

= Lila Galvin 

Cook

= Legacy Surita Aviles 

Colonel Mustard

= Jonitzel Cruz 

Mrs. White

= Jasmin Hernandez 

Mrs. Peacock

= Hazmil Bautista 

Mr. Green

= Juan Valdez 

Miss Scarlet

= Chastity Claudio-Miller 

Professor Plum

= Kevin Garcia Suarez 

Motorist / Agent

= Legend Surita Aviles 

Cop =

Liliana Arenas 

Singing Telegram Girl / Wardrobe

= Angelie Aguilar 

Mr. Boddy / Figure in Black

= Cypher Guzman – Godinez 
STAFF ADVISORS:
QUOTES:
From the director, Mr. Hargrove: Why did the show "Almost, Maine" get changed to "Clue?" 
"I thought for the first time working with a group that I have not worked with before, Clue was a fun and exciting show to do. It's a fun, hilarious romp, and at the same time it is something that would be challenging for all of them to grow, not only as actors, but as comedians." 
How do you think the show "Clue" can strengthen your actors for the Theater Program?
"Without a doubt, Clue is going to strengthen them in so many ways. It is going to give them great communication, timing, understanding, because having a joke is understanding. If you have to explain a joke, it's a bad joke. If you can get the small puns and innuendos it makes it all the more hilarious. Like a lot of the jokes in Clue come across purely off of how they are being said, and they are going to grow as actors by being able to understand those small nuances in script and the way the languages are written and how it works. Of course, it's a great show for physicality, there's pratfalls, there's running in places, there's a lot of high end, almost farce-like comedy that happens in Clue, which is great. It's definitely stretching them in ways that they haven't had the chance to do so before." 
From a cast member, Lila Galvin: How has "Clue" strengthened you as an actor?
"It's definitely given me the opportunity to work with a lot of new people, there are a lot of familiar faces, but a lot of them that I haven't really had the chance to work with before. It's been a really great experience not only to work with those new actors but also to work with Mr. Hargrove for the first time. Getting to meet new people and having an experience helped me learn how to work with new people and learn how to work in a different environment and overcome different challenges that may present. So it's been a great experience and I am really thankful for that. Learning everything that Mr. Hargrove has teached us and has been really great too." 
Tickets: $7, buy from a cast member, Mr. Figueroa, Mr. Hargrove, or Ms. Fraser or at the door.
You can stay on top of what's happening with the play by following Prep's Theater Instagram Page: @preptheater
About the Writer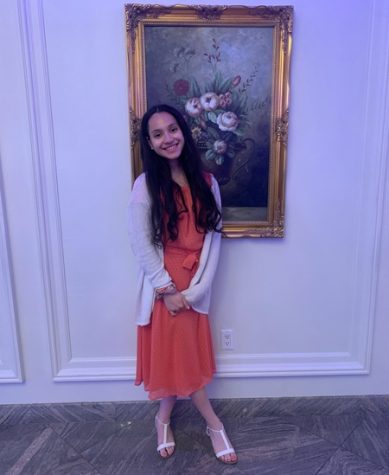 Nelsie Abreu, Staff Reporter
Nelsie Abreu, Staff Reporter, is a senior at Prep. She enjoys reading, participating in clubs and helping others. She is President of the Student Council....