Meet the Candidates: Secretary/Treasurer
Two students hope to be your Student Council Secretary/Treasurer next school year, 2022-23. Voting will be conducted through a Google Form that will be provided to you during history class on June 16, and June 17 for those of you who miss school on the 16th. The Form will only allow you to vote once, and only high school students, including seniors, are eligible to vote. Send questions to Mr. Weaver at [email protected].
Both candidates made a short video and were asked two questions by the Journalism Club. Below are their videos and answers to the questions, unedited, and listed in alphabetical order:
ASHLEY ARRIAGA
Q: What do you hope to accomplish as a Student Council leader next year?
A: What I hope to accomplish as a student council leader next year is to bring comfort to all students. To bring conformity to all, to bring reliance and support to all. I will try to get every student involved and for all students to be heard. I want to make the next school year fun with many events, and many fun activities that we can make. I will also want to achieve clarity, as I will try my hardest to take notes about what is happening in our Student Council meetings.
Q: If you are elected , what will you do about Prep's dress code?
A: If I was elected, what I would do about Preps dress code is that I will try my best to fulfill the requirements that all students want. For now I will fight to change the school shirt color and add more options to preps sweaters.
ELIANA MENDOZA
Q: What do you hope to accomplish as a Student Council leader next year?
A: As a Student Council leader, next year I hope to accomplish a variety of things.  Some of those things being, better school lunch and flexible lunch periods. Having flexible lunch periods will allow students to eat at a better time. There are students including myself that have lunch, periods 7-8. These are towards the end of the day, and most of the time it's best not to eat because you wait the whole day and might as well just wait until you get home. Not to mention that in these lunch periods, we frequently don't get the same food the rest of the lunch periods get, due to them running out. I'd also like to include more lunch options.
Q: If you are elected , what will you do about Prep's dress code?
A: I'll try to evoke more dress down days for people who feel comfortable wearing outside clothes. Having more dress down days can help students express themselves liberally in ways they can't when they're in uniform. When in uniform, students are able to wear two colors. These colors aren't the most flattering for a lot of people's taste or preference, but they're required.
About the Writer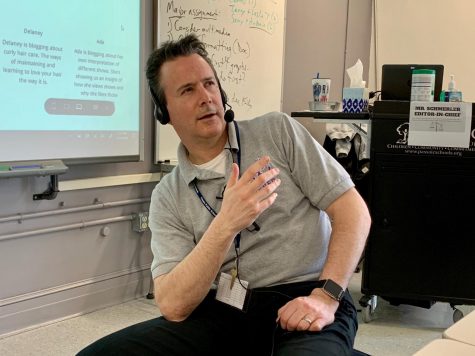 Mr. Schmerler, Adviser
Mr. Schmerler is the Staff Adviser of The Boulevard Online. He worked in the field of journalism for 25 years and has a Masters degree in Broadcast Journalism...