Guest DJ rocks Music Tech
The Music Technology Pathway had a guest speaker on Thursday, April 21. Miguel Frias is the Director of Human Resources in the City of Passaic Public Schools District, and he also is a DJ in his free time.
Ms. Burgos, head of the Music Tech Pathway, said Mr. Frias is a true professional because he knows how to DJ well, even the genres he doesn't necessarily enjoy.
"Frias said I have dembow here, but I really think it's trash, and so many of my kids love dembow," she laughed. "I looked at their faces and I couldn't stop laughing."
Burgos also said having an industry professional as a guest DJ strengthened her message as a teacher.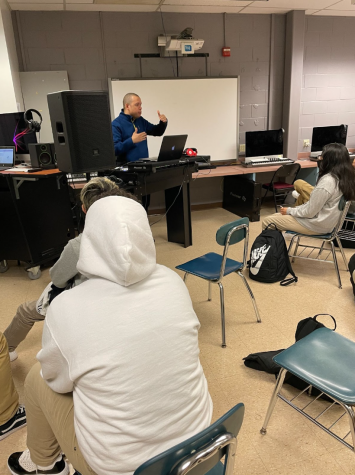 "Everything Mr. Frias was speaking about was essentially everything that I've been telling my students," she said. "It's always really great to have a second opinion, to hear from two people instead of just one. My kids are amazing. They believe what I say, they trust me and we trust each other. 
"That's what I'm most proud of, to see how the Pathway is aligning with the actual industry."
Mr. Frias combined and transitioned different music genres together smoothly while describing the process to the students.