Say hello to your new principal: Ms. Bruce!
New Prep Principal Stacey Bruce is a long-time Passaic educator
In returning to in-person learning this school year, students at Passaic Prep Academy will see a new mask-covered smile in the hallways: Ms. Stacey Bruce, our new principal!
Ms. Bruce, who was raised in Passaic, takes over as principal from Dr. Jason Marx, who left for the Butler school district in Morris County.
The newest addition to our Prep family, Ms. Bruce was formally principal at Dr. Martin Luther King Jr. School 6 for seven years. She has worked all over the Passaic Public Schools District, putting in 21 years overall for Passaic.
This will be Ms. Bruce's first year in a high school setting. She formerly worked at Schools 3, 5, 8 and 14. 
The Boulevard Online reached out to our new principal to ask her some questions. Here are her responses:
The Boulevard Online: What schools have you previously worked at? In what capacity?
Ms. Bruce: I began my career in Passaic at School 5.  For several years, I was there teaching 5th and then 6th grades.  I was one of seven of the first Reading coaches appointed in the district and as a coach, I worked at Schools 8, 5, 14 (which has since closed) and then School 3.  Then I left Passaic altogether and went to work in a town in Bergen County called Montvale.  I was an Assistant Principal there for one year.  I missed Passaic terribly and JUMPED at the chance to return.  When I did, I was placed back at School 3.  I was there for one year as an Assistant Principal and was then promoted to Principal of Dr. Martin Luther King Jr. School No. 6.  I was the principal there for seven years.
"
We've got this.  Together.  Support each other.  And look to the future because it's too exciting to ignore."
— Principal Stacey Bruce
TBO: What motivated you to become a principal?
Ms. Bruce: I was extremely fortunate over the course of my career to work with and alongside absolutely wonderful principals.  They motivated me, inspired me, and had me so excited to come to work every day.  I loved my career choice and I loved working with my students and fellow colleagues.  I realized how important the tone the principal sets in the building is.  I wanted to be able to pay it forward and motivate my students and teachers the way I was motivated.  I realized what a difference it makes when you wake up every morning and you look forward to your day.  My father once told me that if you can find that in your life, it's a career worth sticking with.  So I did.
TBO: What are some of your hobbies? 
Ms. Bruce:
I love to cook and bake.  Unfortunately for me, my over-40 self also loves to taste everything I cook and bake.  Not always the best combination. … I just don't know how Giada does it?

I live in an old house that my husband and I have been slowly renovating.  (Well, actually, my husband renovates it.  I usually just stand around, watching, while getting in the way!)  I do love watching it come back to life.

I love reading.  When I start a good book, I become obsessed with it and can't put it down until I'm finished.  I usually go completely off grid when that happens.
TBO: Tell us something about yourself.
Ms. Bruce: I grew up here in Passaic and I love the old architecture in our city.  When I was a child, my mother used to walk us in the summer to the library on Passaic Ave., from our house.  I always dreamed of sliding all the way down the bannister from the second floor children's room.  (If you don't know the staircase I am talking about, stop in there to check it out!)  My mother always caught me before I fully climbed up the railing.  
My family has had a foot in this city since the year 1915 when my great-grandmother arrived from Sicily.  My great-grandfather was a stone mason who helped to build School No. 11.  My grandmother attended this school from 1939 until 1941 when it was Passaic High School.  She dropped out sometime after December 1941, never graduating.  I'm curious to know if any students here may be able to guess WHY she may have dropped out at that time? 
TBO: What motivates you to work hard day after day?
Ms. Bruce: I love being around my teachers and students.  It is so inspiring to be surrounded by great energy, great ideas, and people who are always looking to create new ways to find fun in our everyday lives and learning.  I am also very VERY excited to be here at Prep.  Every single pathway here is an area that I value.  I always thought it would be so cool for Passaic to open a high school that had a focus on the fine and performing arts.  I love that it was made a reality.
TBO: How will pandemic issues affect us at Prep this year?
Ms. Bruce:
I think it is safe to say that we are all returning to school changed from the pandemic.
Masks will be a regular part of our everyday lives, along with our morning check-ins, via the district app.
Handwashing, and maintaining social distancing to the best extent possible are key.  It is hard to do when we are back around our friends.  Our teachers will do their best to remind you of the importance of keeping yourself in check.  And please know, we will do whatever possible to prevent any students from getting sick!
Just remember – if you don't feel well – stay home!  (But I mean like Covid symptoms I don't feel well – not "I don't feel well because I don't want to take the test in Mr. Contaldi's economics class today."  That just isn't cool.)
TBO: What differences can Prep students and faculty expect between you and Dr. Marx?
Ms. Bruce:
About 120 decibels (I'm louder).

Being that this is my first year in a high school setting, I think it's fair to say that I have a deep learning curve ahead of me.  I am trying to absorb as much as I can as quickly as I can.  However, I do ask for patience as I work to understand much of what Dr. Marx created.

Also – as I already mentioned to the staff — I can't hold a candle to Dr. Marx's quick-witted sense of humor. 
TBO: What message would you like to give our Prep family at the beginning of a new school year?
Ms. Bruce: In many ways, I do feel that living through the pandemic is not unlike living through a war.  When a war ends, it is the task of the people to rebuild their lives.  Often, times of crisis bring to light inner strength that most of us didn't even know existed.  While I do acknowledge that such a long time being home from school was difficult, I want to challenge every single student from Prep to focus on how they were able to get through such a difficult time and emerge from the battle victorious.  The past year and a half, our students have had to function almost fully as college students (and some of you are) — operating independently more than ever before.  Many of you had to also support your younger siblings while they participated in their online schooling while your parents were at work.  (I know because I saw many of you on the cameras!)  Bottle up that strength and call upon it in your most difficult times.  What we got through was BEYOND HARD.  Anything after that is a piece of cake.  AP courses and testing… while HARD… is achievable with hard work, determination, and time management. … Loads of homework?  Piece of cake.  We've got this.  Together.  Support each other.  And look to the future because it's too exciting to ignore.
About the Writer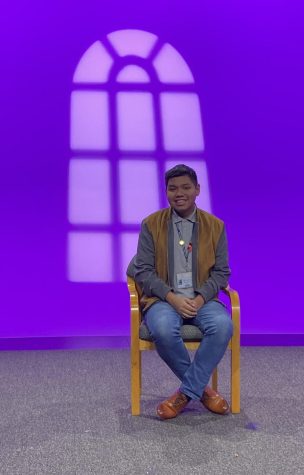 Bryan Perez M., Staff Reporter
Bryan Perez M., Staff Reporter, is a senior at Passaic Prep Academy. He spends most of his time helping out the Student Council. He loves music and playing...