PHOTOS: Progress Pride flag raising at Prep
Passaic Preparatory Academy raised the Progress Pride Flag on June 1 in recognition of Pride Month, becoming the first school in the Passaic Public Schools District to raise the Pride flag.
(CHECK OUT THE PHOTO GALLERY ABOVE!)
The Progress Pride Flag was designed by artist Daniel Quasar in 2018. It is a modification of the Rainbow Flag as it includes five arrow-shaped lines. The black and brown stripes represent people of color, and the pink, light blue and white include the Transgender Pride Flag.
Prep senior Michelle Carpinteyro began the student-run event at 8:30 a.m., followed by several student speakers.
Students who spoke at the event, in order, were:
Senior Michelle Carpinteyro
Junior Gianella Diaz
Junior Amy Zarebczan
Junior Amari Gawthney
Freshman Jeilyn Rivera
Freshman Zugey Gonzalez
After the speeches, Prep seniors Carpinteyro, Nereida Delgado Garcia, and Madeline Urena raised the flag. They set forth a new Prep tradition in which seniors in Prep's Gay-Straight Alliance will raise the flag every year in June.
"The raising of this Progressive Pride Flag means that we are being seen and being heard. We are cared about by these teachers and we are accepted here," Zugey said. "As my mom likes to say, 'we do not need you to like us, all we want is to be respected.' "
The first Passaic Pride flag raising has led to new calls among members of the community to have all Passaic Public Schools raise the flag this month or next June.
"Kids need a place to feel affirmed, safe, and accepted because they might not have that anywhere else," said one Passaic resident at the Passaic Board of Education meeting on June 7.
The Boulevard Online encourages Prep students and staff to share their thoughts and feelings on the Progress Pride flag raising! Use this form to have your comments featured in a future article.
About the Contributor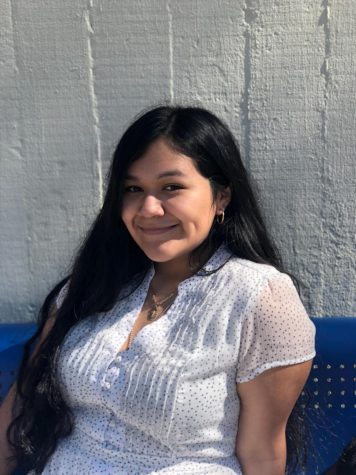 Melissa Reyes, Editor-In-Chief
Melissa Reyes, Editor-In-Chief of The Boulevard and The Boulevard Online, is a senior at Passaic Prep Academy. She is a self-proclaimed history fanatic....