10 great inexpensive DIY Christmas gifts  
Better late than never, a list of gifts you can make at home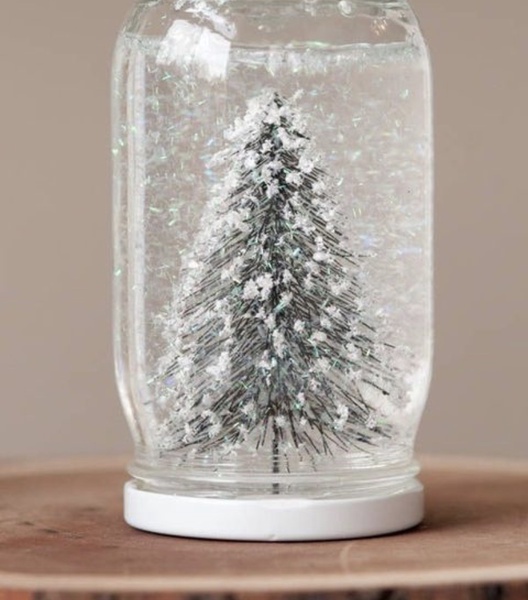 As the holidays approach, so does holiday shopping. Anyone can head out to purchase a present that someone would love, but most of us students are on a budget. DIY Christmas gifts are just as meaningful presents, and though it takes some time, effort and work, it makes it even more special and from the heart. Here is a list of 10 DIY Christmas Gifts: 
1. Snow Globe 
Handmade snow globes are such a great and inexpensive idea. Who doesn't love the sight of glistening glitter and a cute figurine  in the middle?
How To Make: The materials you will need are a mason jar, glitter, water, hot glue, liquid glue and a figurine of your choice. You will glue the figurine to the cap of the jar, once the figurine is glued you will add water to the jar, also add liquid glue to the water and the glitter of your choice. Once all these steps are complete, you can go ahead, close the jar and shake your new snow globe!
2. Advent Calendar 
Advent calendars are always a fun way to make your day a little better. It's always great waking up and looking forward to opening a gift, although the anticipation sometimes gets the best of us. 
How To Make: The materials you will need are plastic cups, tissue paper, cardboard, hot glue and a variety of small items your receiver would love. Could vary from candy, essentials, erasers or other things. You will need to hot glue the cups onto the cardboard, the amount of cups depends on how many you want. You then fill the cup with one item per cup, then hot glue the tissue paper over the cup.
3. Personalized Mugs 
Mugs are always the go-to gift and socks … who doesn't love socks? Mugs are used on a daily basis whether it be for coffee or a drink, you can never go wrong with a mug, especially when you've personalized it to one's liking. 
How To Make: Materials you will need is a mug of your preference and acrylic markers. You will design your mug to your liking, you can add different things, from letters to cartoons. Once you're finished you let it air-dry and the mug is done.
4. Gift Box
A gift box filled with delightful treats and essentials is very thoughtful, it lets one know that you pay attention to the little things about them, their likes and dislikes, what comforts them and things that make them smile. 
How To Make: Gift boxes can be spontaneous and have different items. The materials you will need are a box or a caddy and tissue paper. In the box you put the tissue paper and then you can include one's favorite candy, socks, a mug, chips and essentials, you can also include a letter of why you are thankful for this person.
5. Bath Bomb 
We all sometimes need to get away from everything around us, especially during these stressful times. Nothing sounds more relaxing than a lovely bath with beautifully scented bath bombs.
How To Make: The materials you will need are 2 cups of baking soda, 1 cup of epsom salt, 1 cup of cornstarch and color pigment, also 5-6 drops of essential oils, 1 cup of citric acid, and a silicone mold. All of these materials could be bought at your nearest Walmart or ShopRite. In a bowl, you will mix together baking soda, citric acid, corn starch and epsom salt till there are no lumps. You will then mix in essential oils and add the color of your liking, put the mixture into the silicon mold and wait a day for it to harden up.. Once a day passes, you can then remove the bath bomb from the mold and you have a gift!
6. Tote Bag 
Tote bags are really useful and resourceful, they are also environmentally friendly. When out shopping it is always best if you bring your own reusable bag. A tote bag with an amazing design to one's liking is great, you're helping the environment and look stylish while you are. 
How to Make: You will need a simple tote bag, you can get this at any Michael's Arts And Crafts store, you will also need acrylic markers, sharpies or puff paints. You can design the tote bag as uniquely as you want. You can include a quote, cartoon characters, something meaningful between you and the person the gift is for, once you pick a design, you wait for the tote bag to dry for about two hours, once dry it is ready to be put to use.
7. Candle 
Candles are another amazing gift! There are many different ways candles can been contained: mugs, glass cups, candle holders, etc. Candles help brighten and make a room smell delightful. 
How To Make: The materials you will need are wax melts, wicks and a glass container of your liking. First you will need to heat up the wax melts, once your wax melts are all melted you will then grab your container and insert your wick. You will then pour in the wax slowly and carefully to the top. You will then let it sit till the wax hardens and you have yourself a candle.
8. Room Decor Frame 
You can never go wrong with room decor. It's a form of expression and makes your room more personal.
How To Make: The materials you will need are a frame and a photo of your choice. The photos that are needed can vary from an actual photo or a printed picture of your receiver's favorite show. It could also be a quote, something personal that they would like would be the best way to go. It is something simple and easy that can be hung up in a room as decor.
9. Photo Wall Hanging 
A photo wall hanging is an amazing room decor option, it gives a room a whole different vibe, it is special and the unique pictures one chooses can tell a story.
How To Make: You will need string, paper clips and different pictures of your choosing. Once you have the pictures, which can be printed at a local store, you will stick the pictures together on the string with the paper clips. You can also write little comments on the back of the pictures, once you have done all this, you are done. 
10. Candy Cane Sleighs
Everyone loves candy, and what's better than getting candy in such a unique and fun way?
How To Make: The materials you will need are a small jewelry box or gift box, ribbon, candy canes and hot glue. You will first grab two candy canes and hot glue one on each side of the bottom of the box, after this you will then add smaller mints or any other candy of your preference and put it inside the box. Now you have a cute candy cane sleigh!
These are 10 great simple DIY inexpensive gift ideas for your loved ones! Most materials can be obtained at your nearest grocery or department store and can be kept to a strict budget. Each gift varies on the price range from $10-20. These are great last-minute gifts and handmade, which makes it more special and will guarantee a smile on someone's face.