Student Spotlight: Prep's first Ivy League student, Melissa Reyes
Prep senior earns full ride to Dartmouth College
Passaic Preparatory Academy made its first mark in the Ivy League when senior Melissa Reyes was accepted to Dartmouth College on a full scholarship. Melissa was one of only 25 students accepted for a full ride to Dartmouth after she applied through QuestBridge National College Match in September, and was accepted as a finalist. The scholarship is binding, meaning that Melissa has to attend the college and must withdraw applications from other colleges.
Dartmouth is a private Ivy League university in Hanover, New Hampshire. The most popular majors are Social Science, Engineering, and Biological and Biomedical Science. Tuition at Dartmouth is $83,858 each year. Dartmouth was ranked No. 10 on Forbes Magazine's list of America's Top Colleges in 2019.
Melissa is Editor-In-Chief of The Boulevard Online and takes an active role in Passaic's Youth Council as well as other projects.
The Boulevard Online asked Melissa how she feels about her accomplishment — being accepted to one of the country's most prestigious colleges. 
"I still can't believe I'm going to Dartmouth on a full-ride scholarship," she said. "As a low-income, first-generation, Latinx student, I always assumed I'd be going to community college after high school. All those nights of staying up working, completing my household and club responsibilities, were worth it. I know I'm the first at Prep to be accepted into an Ivy League school but I know that I will not be the last." 
Melissa chose Dartmouth, she said, for its great programs. 

"It has a great program for government and history majors," she said. "I love how it has a program (Rockefeller Research Shop) where I can work with the Vermont and New Hampshire legislature in drafting public policies. I also love how it's in a small town. I thrive in small environments. The fact that I can get more time with college professors is something I love."
Melissa said Dartmouth was her "dream school" and that, when she starts in the fall of 2021, she will become the first in her family to attend college.
As far as what she will major in, Melissa already has some ideas.
"
As a low-income, first-generation, Latinx student, I always assumed I'd be going to community college after high school."
— Prep senior Melissa Reyes
"I'm exploring the possibility of majoring in history and government," she said.
Passaic Prep, she said, has helped her prepare for college with challenging AP classes and by offering other responsibilities. 
"Prep has prepared me for an Ivy League education," she said. "I've taken many AP classes throughout my high school career, including dual enrollment classes, and college classes at William Paterson University. At the same time, I also had to keep up with my family, club, and work responsibilities."
Congratulations, Melissa! We can't wait to see what you will accomplish in the future!
About the Contributor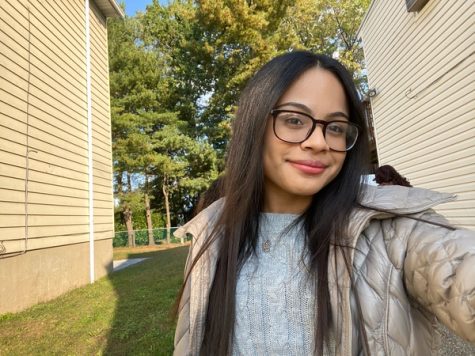 Paula Lombillo, Features Editor
Paula Lombillo, Features Editor, is a senior at Passaic Prep Academy. She loves to write during her free time and stresses about schoolwork most of the...