Easy holiday recipe: Peanut Butter Blossoms 
Santa's elves will love this warm, peanut-buttery goodness!
With Santa making his way around town to drop off presents, we have to provide him with a treat. And what's better than warm cookies and a cold glass of milk? Prepare these Peanut Butter Blossoms for Santa and his hard-working elves! Follow along with the recipe, below, or scroll through the photo gallery, above:
INGREDIENTS: 
1 ¾ cups, all purpose flour 
1 tsp, baking soda 
1 tsp, kosher salt 
½ cup, softened butter (preferably unsalted) 
½ cup smooth peanut butter
½ cup packed brown sugar 
¼ cup granulated sugar *a tad more to roll the cookies on* 
1 egg 
2 tbsp of milk 
1 tsp pure vanilla extract 
Hershey's Kisses 
DIRECTIONS: 
Preheat the oven to 375 degrees. Line baking sheets with parchment paper. In a small bowl mix dry ingredients:  flour, baking soda and salt until combined. 

In a large mixing bowl using a hand mixer beat the butter and peanut butter until smooth. Add both sugars (brown and granulated) and beat until it's light in color and fluffy. Beat in the egg and then gradually add the milk and vanilla. Mix until combined. Slowly add the flour mixture, stir on low until combined. 

Roll your cookie dough into a ball, then roll it on sugar. Place it on the baking sheet and repeat the process with the remaining dough. Make sure to space the cookies at least 2 inches apart. 

Bake until the cookies have poofed and are no longer raw. It should take about 8 to 10 minutes. (

TIP

: No longer than that, time and keep an eye on them because unlike other cookies, these won't brown!). 

Place Hershey's Kisses on top of the cookie before serving.

Place them near the tree for Santa to enjoy, and take some for yourself, too! 
TIPS: 
I would highly recommend freezing/chilling your cookie dough for an hour to really make the ingredients enhance their flavor. 

Definitely place the Hershey's Kisses on top as soon as possible so they can make that small dent on top of the cookies. 

Definitely use unsalted butter, the Kosher salt provides the salt and if you use salted butter, the cookies will be a tad bit saltier. 
About the Writer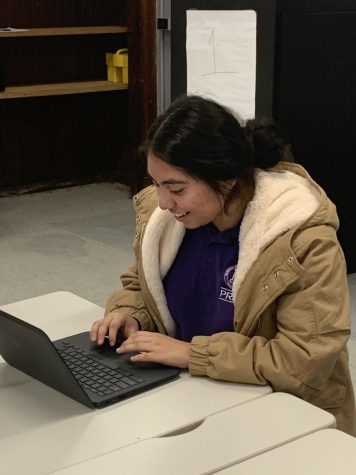 Lissette Rios, Staff Reporter
Lissette Rios, staff reporter, is a senior at Passaic Prep Academy. She likes to spend plenty of her time in extra curriculars, as she's in the Youth Climate...