Teaching artist from Paper Mill Playhouse visits Prep
Theatre Pathway hosts special guest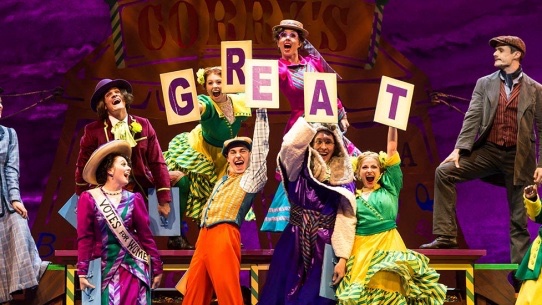 Mariah Black, a teaching artist from the Paper Mill Playhouse, a regional theatre located in Millburn, recently visited students in the Theatre Pathway at Passaic Preparatory Academy via Google Meet. She visited during Mr. Anderson's Stagecraft & Screenwriting class, his third-level theatre CTE course. 
The main source of conversation was "what makes a musical." A condensed presentation was given utilizing the book, The Secret Life of the American Musical: How Broadway Shows are Built, by Jack Viertel. The book teaches how to identify patterns across musicals, different parts of a musical, and takes a deep look into the world of Broadway through the eyes of a producer.
"This is the book that guides most lessons in our second-year course, Musical Theatre," Mr. Anderson said.
The visit was part of a four-year grant from Paper Mill's Adopt a School program. Passaic Prep has gotten the opportunity to see great shows, take workshops, and meet professionals as part of this grant through the Paper Mill Playhouse. 
Mr Anderson reveals he "applied back in 2018, and last year was our first official year with the program. There will be three more workshops from theatre artists as well!"
For information on how to be a part of future workshops and receive a theatre education, contact Mr. Anderson at [email protected]