AP Exams: Did Coronavirus Sink Our Scores?
How did Prep students do on the AP exams in 2020?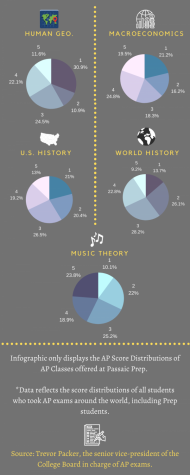 Advanced Placement exam scores were released nationally July 15-17, with New Jersey scores released on July 16. The College Board administers the exams, with experienced AP teachers and college faculty grading them on a scale of 1-5. Any student who receives a score of 3 or higher may qualify for college credit depending on the college they will attend. 
Students can check their AP scores by logging into their College Board account and visiting the "Get Your AP Scores" webpage. The page also reveals whenever the student qualified for any AP Student Awards. These awards are given based on their performance and the number of passing exams. 
At Passaic Preparatory Academy, 229 students took 504 AP exams in the 2019-20 school year. On average, a Prep student took about three exams.
Nereida Delgado, a Prep senior, received a 2 on her AP Calculus AB exam. She said she believes the pandemic hindered her performance on the exam, as she had to study and learn from home through different platforms. In preparation for her Calc exam, she taught herself one of the last units of the curriculum, Differential Equations, by watching Youtube videos.
"It's very hard to stay motivated on your own," she told The Boulevard. "I think I could have done better on the regular exam considering an entire year of learning wouldn't be based on one to two questions," she said.
Another Prep senior, who asked to remain anonymous, received a 2 on her Advanced Placement English Literature & Composition exam.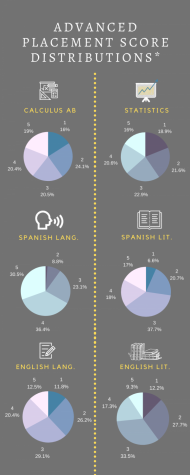 "My score does not represent what I'm capable of," she said. "I learned so much in all those subjects and I retained so much information in the classes I took. The pandemic hindered my testing experience because my parents and older brother had Covid-19. I was in charge of taking care of the rest of my siblings and feeding them. I was cramped with so much schoolwork and studying."
With notes spread out across her bedroom coupled with painstaking long hours of studying, she was confident she would pass her English Literature & Composition exam on May 13. Taking the exam felt like a breeze to her; she finished with five minutes left to submit.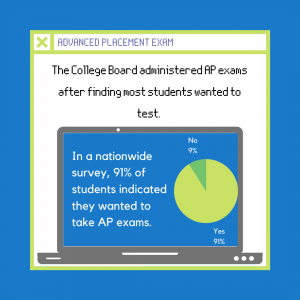 Disaster took over when she became part of the 10,000 students in the world who could not submit their exam due to technical difficulties that week. Anyone who could not submit had to retake the exam.
In response to the technical difficulties, the College Board decided to set up a backup submission process where students could submit their responses via email if they could not submit during the designated time frame.
"To protect the security and validity of exams, we're unable to accept submissions from students who tested May 11–15. However, these students can feel confident that the email option will be in place for them during the makeup exams," posted the College Board on their website.
In a survey conducted by The Boulevard, 27.8% of Prep students revealed they experienced technical difficulties submitting their AP exam(s), and 13.3% of students revealed they could not submit an exam and had to retake it.
"I feel like I was scammed. I know that if I was able to submit that exam, I would have gotten a higher score," the Prep senior said.
Some students worried that a low score would hurt their chances at being accepted into college.
Teachers can request a re-score if they feel like one of their students who received a 1 or a 2 did not get the score they deserved on the exam. 
According to the College Board, "More than 75% of admission officers we surveyed told us that a low score on an AP Exam would not harm an applicant's admission prospects."
Despite the Covid-19 pandemic, the College Board administered AP testing after conducting a nationwide survey, finding that 91% of students indicated they wanted a chance to test.
About the Contributor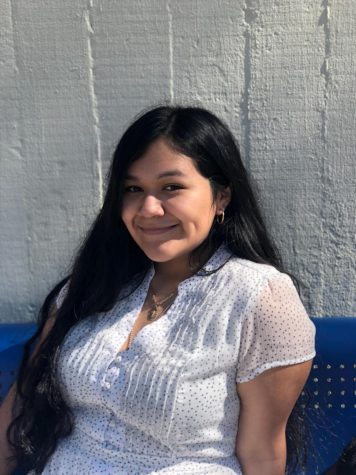 Melissa Reyes, Editor-In-Chief
Melissa Reyes, Editor-In-Chief of The Boulevard and The Boulevard Online, is a senior at Passaic Prep Academy. She is a self-proclaimed history fanatic....