Prep Teachers and Counselors Provide Support for Students in Wake of Tragedy and Protests
Prep staff step forward to help students cope
Passaic Preparatory Academy teachers and counselors are helping students understand and express their thoughts and opinions about the recent deaths of George Floyd, Breonna Taylor, Ahmaud Arbery, and others, through assignments and support.
Prep AP English Literature teacher Ms. Benedetti and AP English Language teacher Ms. Sciametta both assigned a response journal to each of their classes. These journal entries gave students the opportunity to express their thoughts about the recent protests and deaths occurring as a result of police brutality.
With the permission of the students who completed the journal entries, The Boulevard was given access to some of the content. Read the frustration some Prep students have felt about the events occurring in our nation:
"Every single time there is a death by the hands of the police, it somehow disappears. We talk about it for a couple weeks and move on. Why is that? Why is it that the people who have to enforce the law are murdering people instead. Why is it that they can get away with murder but a person of color can lose their life over being pulled over."
"The government is corrupt and we saw this by how Chauvin [Minnesota police officer] was treated. Instead of arresting him, the police surrounded his house to make sure he was safe. Why couldn't they keep George Floyd safe? Why couldn't they keep Tamir Rice safe? Why couldn't they keep Eric Garner safe? Freddie Gray? Bettie Jones? Michael Noel? Cornelius Brown? Richard Perkin? The list goes on."
Prep law teacher Mr. Alessi also has provided students the opportunity to research through assignments. His two assignments "Racial Relations" and "Police Indemnity" focus on the protests and riots occurring in the wake of George Floyd's death, as well as the laws preventing the police from getting sued.
"
These lessons are to get the students to step back and think."
— Mr. Alessi, Prep Law Studies teacher
"These lessons are to get the students to step back and think," he said. "To do research on the topics. To learn the laws and try to understand what is actually happening. Why are people so angry? It's not just that the police are being brutal. It's that there are laws that actually protect them from being fired even when they are breaking the law."
Students have learned about qualified immunity, a doctrine that protects police officers from getting sued if there is no precedent established by the Supreme Court or a federal court appeals that says a constitutional right is being violated.
Students are also given the opportunity to express their opinions about the doctrine, including whenever it should be changed or removed completely.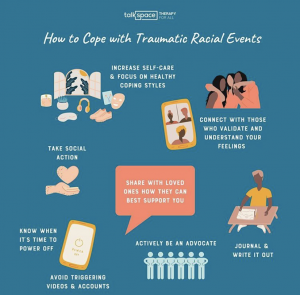 Prep counselors also have expressed a message of solidarity in the Prep Google Classroom. Ms. Fontalvo, a guidance counselor, has provided a graphic on how students can cope (see graphic, right).
The City of Passaic Board of Education also delivered a message addressing the recent deaths of George Floyd, Breonna Taylor, and Ahmaud Arbery. 
"It is important to speak to our children about what they are seeing and help them analyze news and social media reports," stated the commissioners.
The University of North Texas's Division of Student Affairs provides a comprehensive list for self care in light of these events. Any students struggling to process these events can turn to their counselors, teachers, friends, and family for support.
About the Contributor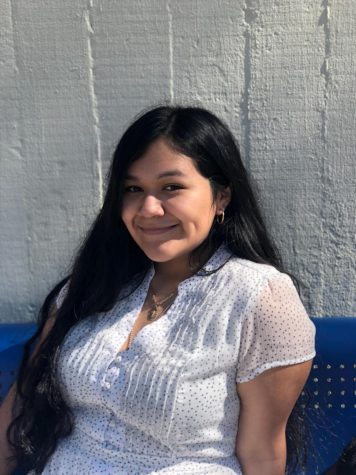 Melissa Reyes, Editor-In-Chief
Melissa Reyes, Editor-In-Chief of The Boulevard and The Boulevard Online, is a senior at Passaic Prep Academy. She is a self-proclaimed history fanatic....