AP Exams During Quarantine: What Did Prep Students Think?
Some students preferred to take the tests at home; others missed the Prep atmosphere
The College Board modified Advanced Placement exams this year in light of the Covid-19 pandemic. AP exams were shortened to 45 minutes, taken online, and with open notes in order to provide students a chance of earning college credit. 
Passaic Preparatory Academy students took online AP Exams May 11-21, and retakes were held June 1-5. The Boulevard sent out a survey so students could voice their opinions on the changes this year. The survey ended with 90 responses: 48.9% from sophomores, 33.3% from juniors and 17.8% from seniors.
Here are the compiled results: 
The Boulevard: How many AP exams did you take?
6.7% of students took one AP exam.
33.3% of students took two AP exams.
40% of students took three AP exams.
20% of students took four AP exams.
The Boulevard: Did you like the way the exam was modified?
33.7% of students felt that "Shortening it to 45 minutes was the best decision the College Board could have made."
66.3% of students did not like the way the exam was modified. They agreed that the exam should have been canceled or postponed.
The Boulevard: Did you experience any difficulties in submitting the exam(s)?
72.2% did not experience any difficulties in submitting the exam, while 27.8% did.
The Boulevard: Were you able to submit your exam(s)?
86.6 percent of students were able to successfully submit their exams compared to the 13.3% of students who had to retake the exam because they could not.
The Boulevard: Are you confident that you passed most or all of your AP exams?
64.4% of students answered no, while 35.6% of students answered that they were confident.
The Boulevard: Do you feel like your AP exam submission adequately represents how much you prepared for the exam?
34.4% of students answered yes, while 58.9% of students answered no. However, 6.7% of students were unsure or felt neutral about their submission. One student remarked, "No matter how much you prepare, nothing can prepare you for the topic or prompt they give you."
The Boulevard: How did you feel about the exam(s)? Here is a sample of answers:
"
Honestly I'm pretty mad because I worked very hard on getting them done just to have technical difficulties mess them up."
— Anonymous Prep student
"They were too short and there was no guidance when studying. There was an average of 15 questions per section and these questions would require explaining actions or be based on the previous questions. This format didn't allow students to collect points in case they didn't know how to answer something. Forty-five minutes was not enough time."
"At first, it was very stressful but once you calm down it doesn't seem as bad."
"I felt like the exam went very well and had no complications throughout the test."
"I felt anxious about the exam because it was my first time ever taking an AP exam."
"It was based on luck, whether you got an easy exam or if you could submit your test."
"Honestly I'm pretty mad because I worked very hard on getting them done just to have technical difficulties mess them up."
"Most of them went by smoothly, but that's because I prepared. If I didn't prepare it would've been terribly hard."
"They should have just canceled the exam … continuing to move forward with it during a pandemic shows that they truly don't care about the students well-being and instead focus on making money."
"I feel good because I know I did the best that I can on all of my AP exams and there was no issue."
The Boulevard: Describe your AP testing experience
"
Felt liberating."
— Anonymous Prep student
"It was nice, relaxed. Because I was at home in a relaxed environment instead of in the gym where I'm surrounded by a depressive feeling, radiating off of the several students around me, topped off with the stressful, deafening silence that only made things even more unbearable, boring, and depressive. Being alone in my house where I'm more comfortable to speak aloud my confidence or even my frustrations with the test allowed me to more smoothly get through it, even if I wasn't sure I'd do well on it. Felt liberating."
"I was able to submit my tests however I felt rushed. I had no time to think and whatever came to mind for a question I had to write it down because if I didn't I wouldn't have enough time for the rest of the questions. For APUSH we had to read and analyze 5 documents plus write an essay in 45 minutes. The reading and analyzing take 15 minutes minimum and then they expect us to write a 5 paragraph essay in 30 minutes? Horrible experience 10/10 would not do this again."
"I was very frustrated because during one of my exams I was not able to submit my answer, and honestly I had studied and taken many notes to make sure that I did well on this exam. And then when I tried to copy and paste my answer into the submission box, it would not allow me to do so."
"With the test being shortened, I felt more inclined to rush certain sections, and to make sure I used my time more wisely than ever but I still felt like I fell short regardless of whether I was on time, or ahead of time."
"My AP testing experience was pleasant. I am fortunate enough to not have distractions and a quiet space to take the test at home."
"Honestly I'm not sure how to describe it, the days went by fast for me and next thing I knew it was just there in front of me."
"For the most part it was good. I felt I did decent considering the time they gave."
"It was very new and different but very simple."
The Boulevard: For those who have taken an AP exam before, how different was this new testing experience compared to the year (s) before?
"Well, there was less time, compared to the ones we took in school. And while taking the AP exam in school, it feels like you have time to complete the exam. In this one it was just rushing through everything, and not even getting the chance to go look back at what I wrote down exactly and if it even makes sense. So I just hoped what I did was not that bad at the end. And in school, I feel like you get more motivated because I remember sitting next to my friend and seeing her work, when i was about to sort of give up. But then I went like I can do this too, it's not that bad. This time I kept reading the question wrong, so my time was used a bit more than I expected. Overall it was okayish."
"Very different. I prefer being in the quiet space we get in school than at home because for me there were some distractions but in school we wouldn't get any. Although it was tiring to take an exam in the usual amount of time given (2-3 hours) I didn't like the shortage of time. It made me nervous thinking whether or not I'll be able to finish since the countdown is right in the bottom of the screen. There is not enough time to check for any errors in essays and you don't have to worry about submitting it in a different format on time."
"I feel like last year was so much better because the test was split into three sections so if we didn't do good on one part and in another we did, that could've saved our score. As well, as I mentioned before, I was just scared that I would get an error when submitting my test while last year, I didn't have to worry about that."
"It was very different. I think the previous exams helped you a lot more if you struggled with more than one topic. It allowed you to fall back a little on the other topics. But in these exams, especially on the one question exams, it didn't allow that to happen."
The Boulevard: Any comments you would like to share about the AP testing?
"
Overall, it was okay and everything went well."
— Anonymous Prep student
"I had too many. I'm glad all the tests were more spaced out throughout the week instead of cramming as many as you could in the span of a couple consecutive days."
"They should've just canceled it, there are kids who are really being affected by the pandemic and the College Board just added more stress on their shoulders."
"I just hope everything could go back to the way it was so we can show a better performance in our exams than are rushed answers."
"When you prepare so much for an exam and not be able to submit it, you get upset."
"Overall, it was okay and everything went well."
The College Board developed modified online exams after surveying 18,000 AP students. Most of these students indicated they wanted to take the exam to get a chance at earning college credit.
The Boulevard reached out to Mr. Contaldi, Prep's AP MacroEconomics teacher for his thoughts on this year's AP exams. Mr. Contaldi has been teaching AP MacroEconomics for two years at Prep. He previously taught AP MacroEconomics from 2014-16 at Passaic High.
"Being that the College Board continued to test based on students' desires to do so — I was all for it. If the students had been polled and were not enthusiastic about taking the test, then I believe the test should have been skipped," said Mr. Contaldi. "Listening to the students was important."
"
In the grand scheme of things, remember what is important may not always be what you learn in class."
— Mr. Contaldi, Prep macroeconomics teacher
Mr. Contaldi believes that the AP exam problems for some of the exams, like his, were too long. 
"Starting the test with a 13-part question was a mistake, I would say. It made many of the students hit the panic button when it was important for them to feel comfortable taking the test in a new format."
He discussed the impact Covid-19 has affected and limited the way AP teachers could go over content for the exam. The spread of the virus prevented and interfered with in-person learning, causing students to turn to remote learning in order to prepare for the AP exam.
"I am not entirely comfortable teaching online," he said. "I had a lengthy, in-person review plan that had to be scrapped. That was disappointing. However, under the circumstances, it was not a big deal. I sent out plenty of review problems but it was difficult to go over every part of those problems."
For those who are not confident about their AP exam submission, Mr. Contaldi advised: "I say the same thing from day one of class every year: It is one test. Whether you did great or less than great, life goes on. You do your best and then you move on.
"In the grand scheme of things, remember what is important may not always be what you learn in class," emphasized Mr. Contaldi.
About the Writer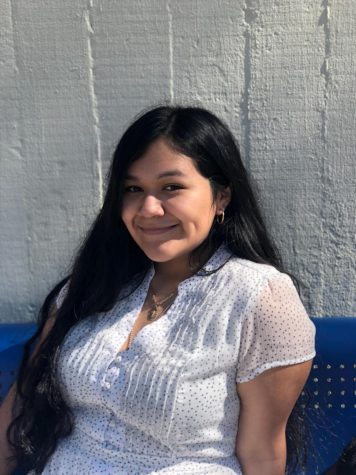 Melissa Reyes, Editor-In-Chief
Melissa Reyes, Editor-In-Chief of The Boulevard and The Boulevard Online, is a senior at Passaic Prep Academy. She is a self-proclaimed history fanatic....