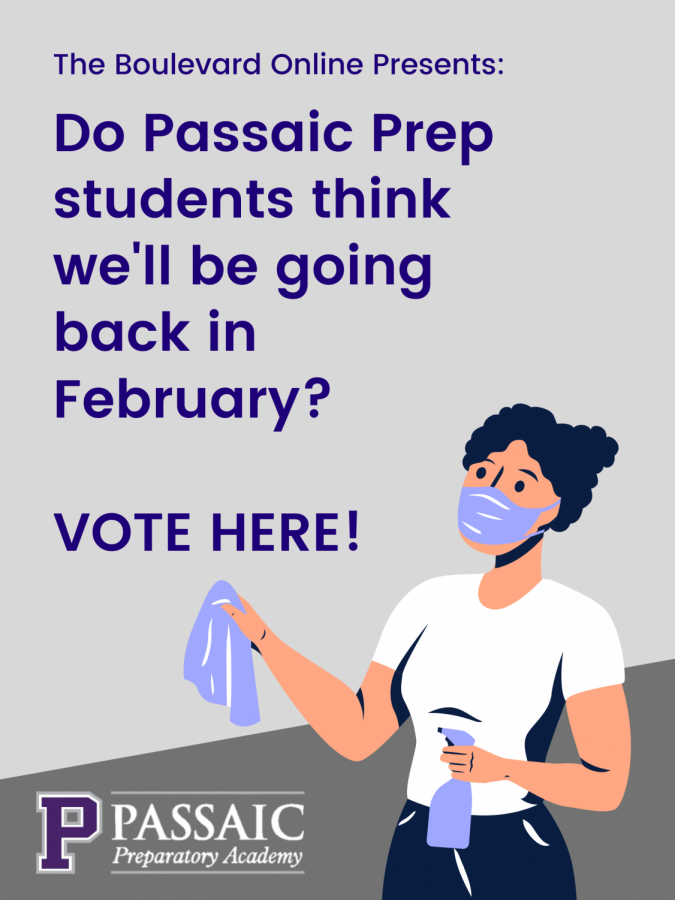 Nereida Delgado Garcia
Passaic Preparatory Academy and other district schools have been learning from home since Sept. 10, and this initial phase of the Schools Restart and Recovery plan runs through Feb. 5, at least. 
This month, the City of Passaic District Board of Education will determine whether to continue Phase 1 or move to Phase 2, leaving students to wonder if and when we could go back to in-person learning. 
In Phase 2, parents can choose between hybrid learning, which is a mix of in-person and remote learning, or continued remote instruction. Phase 2's in-person learning would consist of one-session days on Monday, Wednesday and Friday, with each student attending in-person one day per week.
The Boulevard wants to know where Prep staff, parents, and students stand on the issue. The poll starts Jan. 8 and runs through the evening of Jan. 22, so make sure to vote in the poll posted on the RIGHT and encourage others by sharing this link!
Will Passaic schools reopen on Feb. 8?
YES, on Feb. 8 after Phase 1
YES, but not until sometime after April
NO, not coming back this school year
Send comments regarding your vote to [email protected], and we might use them when we review the results.
Be sure to monitor The Boulevard Online for any new developments on remote learning!
Note: These poll results will NOT be used by the Board of Education or administration in determining whether to continue in Phase 1 or move into Phase 2. The poll is just for and by The Boulevard.