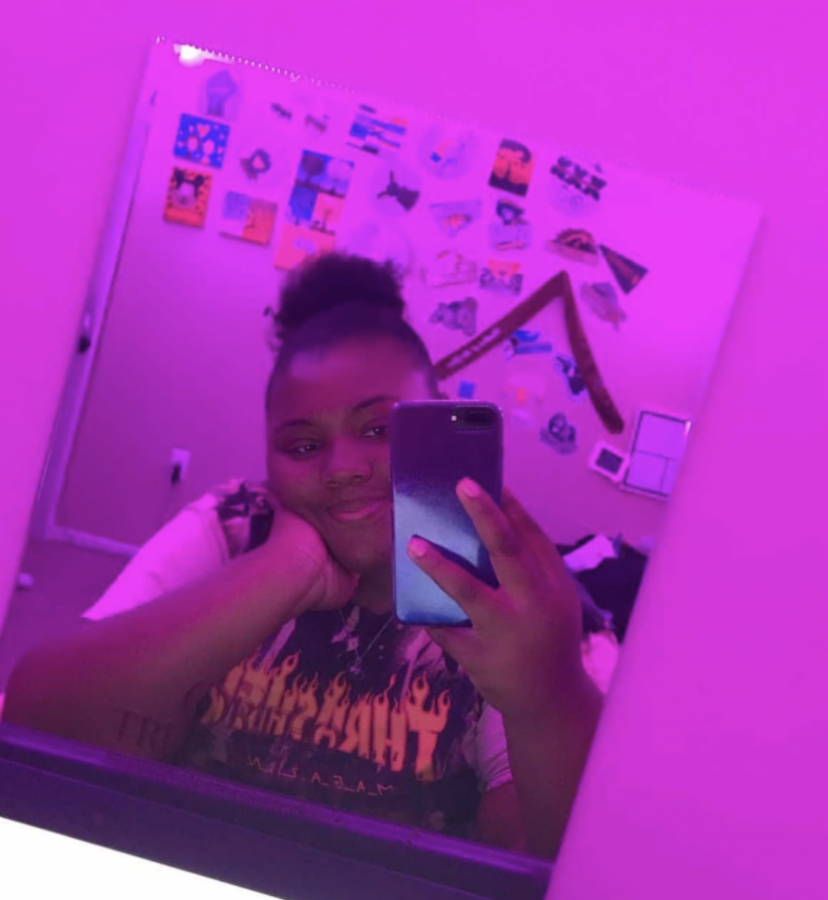 Courtesy of Amari Gawthney
Amari Gawthney is a junior and the new Student Council President at Passaic Preparatory Academy!
Amari said ran for president because, throughout her years at Prep, she saw things around the school and had her own opinions and voiced them to students and friends that had agreed with her.
She said she was motivated by members of the student body to run for President and she wants to be able to get things done in ways she thinks are right, and be the voice for all the students that go unheard and things that go unseen in our school.
"I ran for Student Council President because throughout my years being at Prep I'd see things and have my own opinion on how to change and fix them, and I'd even voice my opinion to friends and other students who just so happen to agree with me," she said. "And then I thought, what better way to get something fixed than doing it myself? So with the motivation of wanting a change and wise words from members of the student body I decided to run to be able to get things done in the ways that I think are best and to be able to be the voice for all those unheard and unseen in our school."
Amari said she had so many people encourage her to run, and wanted to mention Mr. Rusca (Band Director and teacher), Mr. Rodriguez (physical education teacher), Beyoncé Hernandez (freshman), Hansel Villar (sophomore), Ty'jae Taylor (sophomore), Magaly Tepox (sophomore), Lilibeth Arriaga (junior), Mairobys Lopez (junior), Monserrat Galicia (junior), Ofelia Osorio (junior), Omarlys Rodriguez (junior), Razeik Dawson (junior), Nereida Delgado (senior) and Diana Ahuatl (senior).
"A range of students and staff kept me motivated before and during the process of running," Amari said. "Members through the school who supported me, motivated in all different kinds of ways with messages, reposting my campaign videos and pictures and by spreading the word on why people should vote for me."
She has set goals for improving the Prep experience.
"Some of the goals I'm looking forward to working towards is finally getting our school a mascot, as well as hopefully bringing in a military program for our students who are looking at different paths after high school, along with getting early release set in place for seniors, getting more resources and outlets for students and staff members struggling with mental health, and many other things," she said.
One thing Amari wants you to know is that she puts her friends and everyone else before herself.
"I am someone who will go to the ends of the earth for a friend, a stranger, even an 'enemy' before even thinking about myself," she said. "Whatever I put my mind to, I fight for until it's done, all together just a very dedicated, persistent and hard-working person. Lastly, that I am someone who's always down for a good laugh and someone who's full of good spirits and vibes."
Amari said she likes to keep a positive mindset by uplifting spirits and helping others, especially when she's struggling.
"I keep a positive mindset by doing a bunch of different things," she said. "One thing that always lifts my spirits is helping others, even when I know that I may be struggling I think about how someone out there could have it so much worse. So when I see someone struggling, whether it be physically or mentally, I try and help to the best of my abilities, giving back to those in need. Seeing their smiles always keeps me positive, as well as just doing small activities that I love such as painting, playing instruments, talking to friends, listening to music, etc."
What does the new president stand for?
A platform for Prep students to be able to access mental health professionals and resources for other life paths:
"Some changes we need for our school is access to mental health professionals, resources for other life paths after high school other than college," she said. "As well as reinforcing the homework schedule that was set in place.
"I've been able to interact with students through group chats I created for kids in each grade levels to be able to ask questions and state any concerns they had. Also through the school email. Any student can contact me through there ([email protected]), and hopefully I will find new ways to reach the rest of the student body as a whole."
Homework. Students shouldn't have too much:
"I feel like for most of us, the homework is a lot to handle, especially for those taking multiple AP classes and Honors classes," she said. "From what I know there was a schedule that was supposed to be followed by teachers on when they should be giving homework out, but when teachers don't follow the schedule they give homework on the days other classes were told to give homework and it starts to pile up, leaving us with a bunch of work to complete at one time. The overload of work can be stressful to not only myself, but to many students."
She plans on reminding teachers when they're supposed to assign homework, so students are not overloaded.
Here are some of Amari's favorite things:
Favorite food: Tacos.
Favorite movie: "The Pursuit of Happyness," with Will Smith.
Favorite books: "The Outsiders," by S.E. Hinton, and "The Giver," by Lois Lowry.
Favorite restaurant in Passaic: Tony's Pizzeria.
Thank you, Amari, and congratulations!