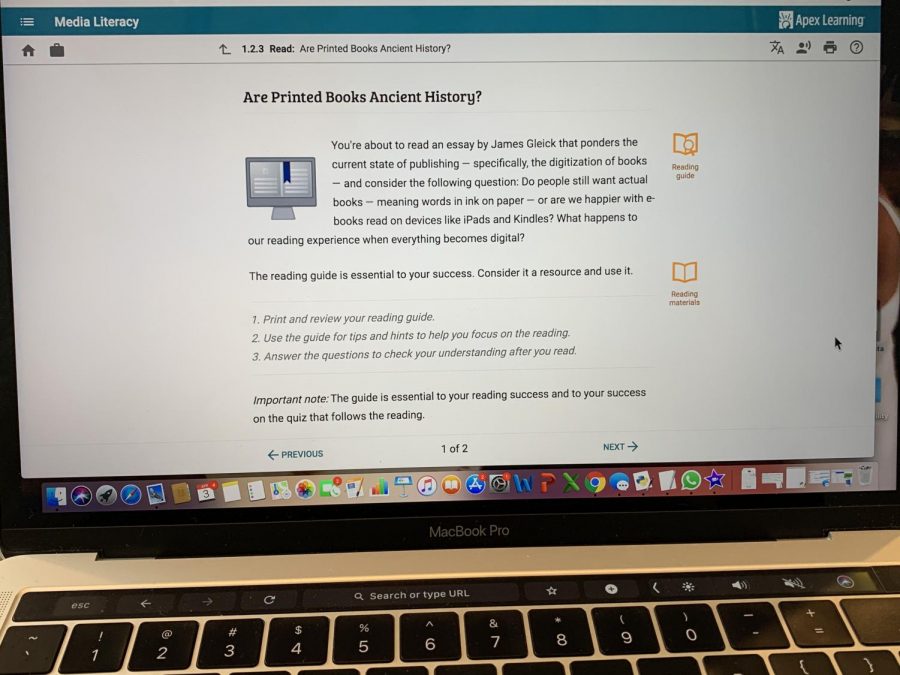 The state of New Jersey officially shut down schools on March 18. Passaic Preparatory Academy last had students roaming the halls on March 13, as schools shuttered to enforce "social distancing" and fight the spread of Coronavirus (a.k.a. COVID-19). Since then, schools have turned to online, or remote, learning. 
Prep students were assigned Chromebooks and announced the transition to online learning the week after the school's closing. Teachers contact students through Google Classroom, Canvas, Remind, and email. Assignments are set and handed in online. 
The Boulevard wanted to see how students are doing with remote learning and how they are coping with sudden uncertainty, so we took a survey and 221 students responded. They were split evenly between high school and middle school, though the sophomore class was represented least with 6.8% of responders. Comparatively, 17.2% of students who took the survey were freshmen.
We wanted to know, what have been your best experiences with remote learning? Your worst? Your weirdest? Are you still studying hard, or slacking off? Sleeping late, or still up with the sun?
Here is a sample of your best, or at least most interesting, responses: 
The Boulevard: During remote learning, what time do you wake up in the morning?
44.8% of students wake up from 8-9 a.m.
29.8%  of students wake up from 7-8 a.m.
19.5% of students wake up from 9-10 a.m.
5.9% of students wake up after 10 a.m.
The Boulevard: How many hours do you put into school during remote learning? Remember, a typical school day is seven hours.
52% of students say they put 7 or more hours into schoolwork.
22.6 % of students say they put 6 hours into schoolwork.
14.9% of students say they put 5 hours into schoolwork.
10.5% of students say they put 4 hours or less into schoolwork.
The Boulevard: Are you enjoying the process of remote learning? Which do you like better:
60.6% of students say they prefer going to school.
30.3% of students say they enjoy going to school and remote learning equally.
9% of students say they prefer remote learning.
The Boulevard: How have you communicated with your teachers during remote learning? Students chose all methods that applied:
Google Classroom (95%)
Remind app (45%)
Email (29%)
Canvas (8%)
Video (5%)
Class Dojo (2%)
The Boulevard: Tell us your weirdest experiences during remote learning.
"I had my mother scrolling through Facebook during my video conference call with my Geometry teacher. She kept tapping my shoulder to show me memes."
"My dog won't stop snoring."
"Waking up at 12 p.m. and realizing I'm not late to school and I can just do my homework with the click of a few buttons."
"I had a conference call with my statistics class, we were about to end the call, and my niece walked in and went "AUNTIE!! DIAPER!!" Gladly, no one heard and the call ended right after that."
"I woke up late and thought I was late for school."
"Someone asking to use the bathroom."
"Surprisingly, it makes me realize I would rather go back to school with all my classmates and teachers."
"Since I'm used to the bell ringing every period, I'm like when is it going to ring, and then I remind myself that I'm home doing classwork."
The Boulevard: Tell us the BEST part of remote learning.
"I can work in bed."
"Not having to wake up early."
"My schedule is WAY more flexible. I can take breaks when I feel like it, which helps me feel less stressed and less burned out."
"Staying in my pajamas."
"I don't have to change into my uniform."
"I can listen to music to work better."
"Spend more time with family."
"Work at my own pace."
"I can look at my phone and text without getting in trouble."
"Being able to stay home or in a place of comfort so that I can study peacefully. Like let's say I want a snack, I can get a snack and continue to work. While in school, you have to wait until lunch."
"You don't have to wait until that period is over, you can go straight into another subject/period."
"I get to spend time with my beautiful annoying brothers and help them understand what their teachers expect them to do. I also get to listen to music while eating/drinking during class sessions and do mini-video blogs of our time as a family during this time, so we can have it as a memory."
The Boulevard: Tell us the WORST part of remote learning.
"Some of the teachers are assigning too much work to students then they would regularly assign when we were in class."
"It can get confusing sometimes."
"Not being able to interact with my teachers and peers."
"When I don't understand a lesson or an activity, I've had to send emails to teachers and wait for them to respond because they are also busy with their work."
"Not being able to see friends."
"I miss having a teacher around that can help me when I'm stuck and can further explain the concept."
"My schoolwork doesn't excuse me from not doing some chores I have to do in the morning and the afternoon."
"The constant staring at my screen gives me headaches."
"I can't concentrate at home because I'm the oldest. I'm forced to help out my siblings with their homework, which is literally for the full day."
"I have three siblings who have to use the Chromebook as well. I haven't learned anything since I left school."
"I get stressed easily and distracted."
The Boulevard: How do you deal with STRESS during remote learning?
"I listen to music to calm me down."
"I just inhale and exhale and it takes me five minutes to think clearly and be able to move forward without discomfort."
"Doing yoga."
"Taking a nap."
"Taking breaks from classwork, listening to music and dancing to it. I also get to do yoga before I even start doing what I have to do for the day."
"I make myself a snack and just scroll through my phone."
"I take a break and play Animal Crossing: New Horizons for a while and come back to finish my work with hopefully a clearer mind."
"I work out and meditate."
"Go on my phone and watch funny videos."
"I just watch a movie or do something fun to calm myself down."
"Listen to BTS."
"Crying it out, then tell my mom about it then after that I calm down and try to work again."
The Boulevard: What else do you do during this time at home, to pass the time?
"Read, exercise, sing, clean a lot."
"Play sports, watch movies, play video games, go outside for a quick walk, etc."
"I help my brothers since they also have to do school and don't understand many things."
"I make time for myself, help around the house and also take the time to learn something new."
"I'm usually on my phone watching Tik Tok videos. I've been reading a lot lately. I also like to do some baking/cooking."
"Eating and unconsciously putting it away because I shouldn't be eating in class."
"Play on the PS4, edit videos, dance, draw, exercise, watch anime."
"Play Animal Crossing: New Horizons and watch tutorials on how to play Animal Crossing: New Horizons."
"Watch my show, eat, play dominoes with the family, help clean the house, that's it."
"I study the stock market so in the future I'll be prepared to start investing in the stock market."
"Cook, spend time with family, learn more about myself, play piano, and play video games."
The Boulevard: Do you go through your normal class schedule, OR do you make your own hours during remote learning? Students were split almost evenly between making their own hours and going through their regularly-scheduled classes in order. Best explanations:
"I try to go through the normal class schedule, but sometimes work from certain classes takes longer to complete, so I try to finish those. Some of my classes require me to be there during the period, while others tell me that work is due by the end of the school day, and then others allow me to hand in work before the whole day ends. So I prioritize my classes and then the ones that I do not need to do according to the schedule, I do later during the day."
"I go through my own hours during remote learning just because I find it easier. I do the classes I like or understand first and head on to the most difficult classes or classes I have trouble with last."
"Depends what is going on that day or how far ahead I am. On a regular smooth-running day, I follow my class schedule. On a busy, running-around-the-house day, I go by a schedule that best fits my hours, still during school hours. Or if I am ahead in lessons I'll make sure the teacher knows I am present and did the work for the day."
"I go through my normal class schedule, or sometimes I like to do all my classes in 2-4 hours so I can spend time with my family."
The Boulevard: How do you stay organized with all your classes during remote learning? Is it difficult?
"I put all my notes in a Google Doc, then print it out. It is difficult without the assistance of my classmates/teachers."
 "I try to do everything as if I were in school during those periods, and if I don't finish it within the 40 minutes I leave it for 'homework' after 3:36."
"I go by order with my classes. It's not difficult once you are used to what you have to do."
"It is very difficult. Some  teachers are on the heavy end with assigning school work. I just do my best to do as much as I can."
"My mom and dad help me."
"It isn't necessarily difficult, I am just not used to it. Sometimes it is easy to forget to do work for certain classes because I am too busy working on other classes. Also, the amount of work isn't as light as I thought it would be."
"I have a notebook where I jot down what classes I have completed and what classes I have left to do for the day. It's not difficult to stay organized just because I use certain pens/color schemes to keep up with what classes they belong to."
"By going in order. The classes that I go to from Period 1 to Period 9 and do their work, and create a folder in Google Drive of the classes that want me to do work in Google Classroom so I don't miss anything in case they ask me to resubmit again and so forth. If I have a test or a quiz, I give myself a reminder through my phone for the next day."
The Boulevard: Anything else you want to say about remote learning?
"I don't like it. It's very confusing."
"I like it because I get to be close to my family. I have responsibilities that make it harder to complete assignments, but I'm trying my best."
"I want to go back to school! I miss everybody."
"I enjoy remote learning a lot. I like the fact that I don't feel burned out or that I have to carry a large backpack. Some people might be bored with it, but for me, it's a good time to take a step back and relax a little."
"It's a temporary experience, but so far it's taught me a lot about myself."
"I really enjoy it, but I also really like face-to-face teaching and hope this pandemic will be over soon."
"Remote learning is not as bad as people make it seem. It may be a lot more work than regular classwork, but you get more independence and everything is really at your own pace so you build better time-management skills."
"It's preparing me for college because I want to take online classes."